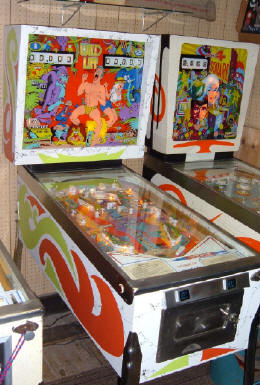 1972 Gottlieb's "Wild Life" the rarer two player version of "Jungle" in ground up restored condition (restoration completed 7/12/05). Wild Life plays like 1972 all over again rebuilt everything including a new 33 year old lion spinner with no wear on it all new posts and excellent playfield plastics very hard to find in this condition. Fresh correct cabinet paint is vibrant very nice playfield and backglass with few issues plays like a dream.
Pinrescue loves the simple yet engaging game play, the cute as can be backglass and the overall look and feel of this early 1970's game. Great action with the captive pop bumper, 10 star rollovers, countdown after ball bonus up to 20,000 points, that new spinner, a ball return gate, and a kick back gate. We have safely shipped all over and offer long term low cost annual service contracts local to us in the Greater Philadelphia Area.
Not local? Phone/parts/email support pinball is no fun if it doesn't work.
Wild Life is as clean as a pinball machine can be and is ready for years of service in your game room. Don't wait or this machine will be on it's way to someone else's home.
Price $2700 Sold Mabank, TX
Any questions pinrescue@comcast.net 215 493 266
Click to enlarge