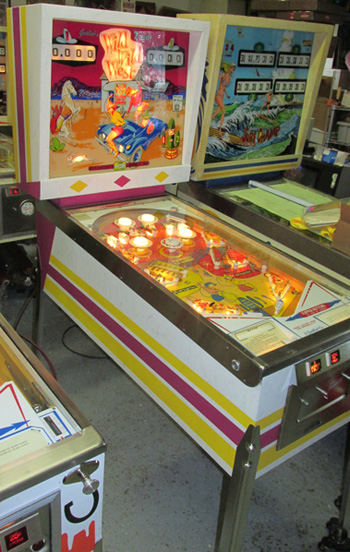 1969 Gottlieb's "Wild Wild West" Super cute two player pinball machine western themed pinball machine from Gottlieb. Rebuilt with tons of new parts (restoration completed April 2015) all new Posts, Rubber, Lamps, Flippers, Pop bumpers, Shooter, Coin entries, Coin door, Side rails, Legs, Locks and Hardware. Wild Wild West is ready for a long happy life in your game room. Faithfully restored cabinet paint and chrome, this is a sharp, clean vintage pinball machine.
Excellent cosmetic condition for a 45 year old pinball machine. Wild Wild West along with other great Gottlieb western pinball machines like El Dorado, Bronco, Bonanza, Quick Draw, Buckaroo ,Oklahoma, Mustang and Straight Shooter somehow blended pinball with the wild west. Any of those would look great next to Wild Wild West. Rare vintage pinball machine as the total run was around 1,200 machines. Can't be more than a handful left in the world in this very nice rebuilt condition.

These All American made in Chicago vintage pinball machines have a quality the Germans and Japanese can't touch. The finest craftsmanship and materials were used in making these classic pinball machines.

Pinrescue's most popular pinball theme we sell Western Themed, Sports Themed and Billiard Themed pinball machines very soon after we list them.

Fun game play on one of Gottlieb's cutest pinball machines:
Varitargets harder you hit them the higher the score value

Varitargets to the top lights the "Wow" to win extra balls

Two brand new scoring bumpers and three brand new pop bumpers

Two brand new flippers (last of the "small" flipper machines)

Two kickout holes score the targets value

Replays for high scores and end of game match

Win free games and the population of Dry Gulch goes up (see pictures below)
Things you might remember from 1969 the year Wild Wild West was made. Neil
Armstrong walked on the moon, Woodstock draws 350,000 music fans, Richard
Nixon is elected president and Walmart is incorporated. By the way you can't
buy a restored "Wild Wild West" from Walmart. Don't wait another 40 years to
own a classic pinball machine they may all be gone.


One of the few investments you can play and enjoy every day if you always wanted a vintage pinball machine this Wild Wild West may be what you have been waiting for. We offer unlimited parts/email/phone support and have safely shipped all over inside insured installation ready to play included. Local to us in Philadelphia area and all of New Jersey we offer delivery and set up with an annual service contract again included in our price.

Price $5500 -Sold-Star Valley Ranch, WY Questions? pinrescue@comcast.net or 215 354 0906 russ

Click to enlarge