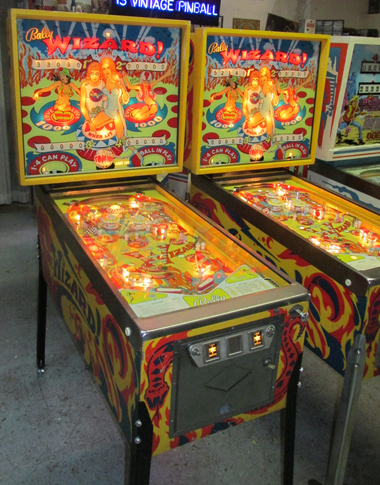 Pinball Game for sale
1975 Bally's "Wizard" Rock and Roll special a truly classic Bally pinball machine. Great fun loaded with 1970ís pinball fun for up to four players. Freshly restored by Pinrescue completed first week of October 2017 Wizard play like 1975 all over again. Yes that is Ann Margaret, Tina Turner and Roger Daltry on the perfect original back (ART) glass. We at Pinrescue are proud to offer this nice example of this very popular pinball machine. Extra nice original cabinet good playfield with minimal wear and tear. Rebuilt pop bumpers all new flippers, rubber, posts and lamps plays beautifully.
Pinrescue is lucky to have 2 nice examples of this classy pinball machine ready to ship.
Gottliebís, Ballyís and Williamís used All American artists, designers and craftsmen to assemble these fun to play pieces of art. Vintage pinball has that old fashion All American quality that the Japanese and Germans just canít touch.
Freshly restored October 2017 it is ready to ship, ready to play and enjoy for years to come.
Speaking of top tens what were you dancing to in 1975? The top ten that year:
1. Love Will Keep Us Together, The Captain and Tennille
2. Rhinestone Cowboy, Glen Campbell
3. Philadelphia Freedom, Elton John
4. Before the Next Teardrop Falls, Freddy Fender
5. My Eyes Adored You, Frankie Valli
6. Shining Star, Wind and Fire
7. Fame, David Bowie
8. Laughter In the Rain, Neil Sedaka
9. One of These Nights, Eagles
10. Thank God I'm a Country Boy, John Denver
Pinrescue is not sure about the music from that year but pinball was in its glory years, remember this was before Pac Man and Donkey Kong.
Tons of great 1970's features on Wizard like:
Best investment in family fun you can make this year don't wait or Wizard will be on its way to someone else's gameroom. Pinrescue's favorite Bally pinball machine. These nice quality mid 70ís machines sell fast. We have safely shipped to over 40 of the states inside insured ready to plug in and play included in our selling price.
Price $4000 sold Berlin NJ includes shipping inside your home ready to play. Any questions pinrescue@comcast.net 215 354 0906
Click to enlarge