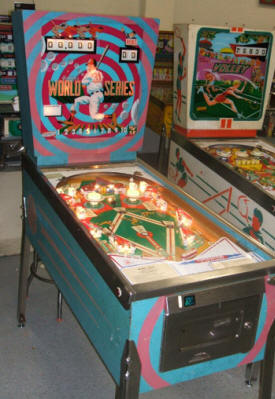 1972 Gottlieb's "World Series"
Baseball themed rare pinball machine from Gottlieb. Collectable add a ball version of 1972 "Grand Slam" awards extra balls for long play in your home. Low production machine (only 775 machines manufactured long ago in 1972) made for New York and Wisconsin states that outlawed "replay" pinball machines for some stupid reason.
Some of the nice features found on "World Series"
*Classic roto target which awards Singles, Doubles, Triples and Home Runs.
*Playfield outholes light up for runners on base.
*Win extra balls for high scores and runs scored.
*100,000 scoring for over the top pinball fun
*Vintage Baseball graphics from Gottlieb
Nice all round original condition as follows:
Very Good original backglass with minimal flaking.
Nice colorful all original cabinet with good color and few scuffs.
Nice condition playfield with all new playfield posts and minimal wear below the kick out holes.
Rebuilt for a long happy life with new flippers, pop bumpers and as clean as a pinball machine can be inside and out.
Pinrescue cannot keep Sports themed, Card themed or Billiard themed pinball machines in stock. The demand for quality restored vintage pinball machines from the 1970's has surpassed the supply of these classics that are in ready to play condition like this "World Series".
This is the only World Series that pinrescue has had the pleasure of restoring and when it is gone it could be a long, long time before we get another one in stock and ready for sale.
Price sold, Jupiter Fla.
call 215.354.0906 or pinrescue@comcast.net with any questions