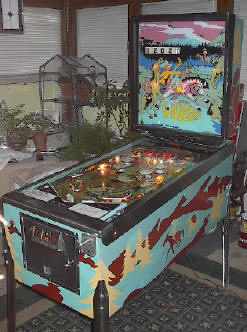 Pinrescue's favorite add a ball pinball machine. Very cool scoring up to 1,000,000 points and it is possible to do it as you win free balls for extended play. Fast, Fast, Fast play, advance the reels to line up three Yukons on the slot type reels in the playfield to light up the Specials to award two extra balls. Factory wooden chime box makes mellow pinball sounds in your game room.
Nice cabinet, backglass and playfield rare pinball investment you can play and enjoy everyday. Cute artwork just about everyone loves.
Long term low cost service contract local to us in the Greater Philadelphia area is available on Yukon. Don't wait as we can't restore these vintage pinball machines fast enough to keep up with the tremendous demand for quality restored pinball machines from the 1970's.
Price (Sorry Sold!)
Any questions pinrescue@comcast.net 215 493 266
Click to enlarge