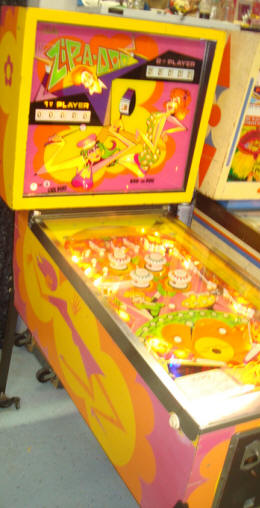 1970 Bally's Two player "ZIP-A-DOO" Flower power pinball at it's coolest. Love it or hate it wild wacky art work perfect for Valentine's Day see cute pictures below. Just completed restoration Feb 2013 you might be able to get it for this year's Valentine's Day!
What was happening in 1970 the year ZipaDoo left the factory in Chicago? On Jan. 16, 1970, Bass (Senate candidate from St. Louis ) filed legislation to ban the play "Hair" from local stages. Critics accused her of a campaign stunt, and it worked.
Low production machine Zip A Doo's rarely come up for sale and this one is in excellent all round cosmetic condition. Just restore mechanically Feb 2013 ready for your gameroom.
Neat Features on Zip a Doo :
Ball Save Post –pops up between the flippers (pops down at the worst times!)

4 rebuilt Pop bumpers

Cool three level scoring lanes

Kick out hole on the groovy side table awards points and extra ball

Win credits for High Scores and End of game match
Nice clean fully working Bally inside shipping runs $400 anywhere in the USA (lower 48)
Price $2895 sold- Bangor, ME questions Pinrescue@comcast.net
Click to enlarge