Pinball game testimonials from our customers
Click here for our Pinball Collector Register rankings
Once again Pinrescue is very proud to help supply the Professional Amateur Pinball Association with vintage pinball machines for the 2004, 2005, 2006, 2007 and 2008
Greatest pinball tournament ever held anywhere. www.papa.org .
We at Pinrescue admire are amazed and respect the tremendous job everyone there has done rebuilding after the 2004 flood.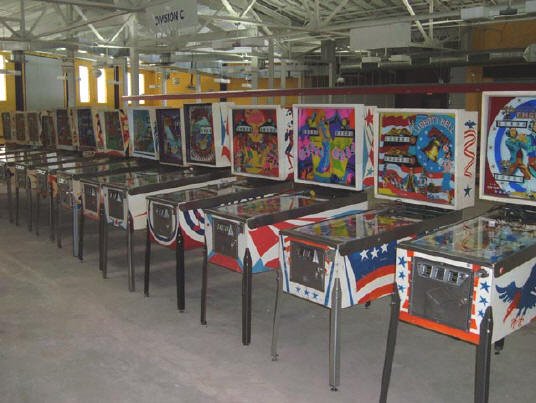 Please visit www.papa.org for information on the 2008 games and pictures of some of the 300+ Classic to modern pinball machines set up in a totally renovated facility. Pictured above is just a tiny portion of the vintage pinball machines available for play in this year's tournament.
Some recent customer testimonials
Russ, Thanks so much Russ and Stacy!!

We've been playing pinball all day.
The funny thing is my wife Matilda got the high score on her first try!!!!
(December 2017 1976 Ship Ahoy)
click to enlarge:
Hi Russ, Jacks Open got a serious workout this summer at our lake place from my kids, grandkids and myself of course and performed flawlessly. I think some days it was being played most of the day. Maybe a good thing it will get some time off now that summer is over. Also thought you might enjoy this. My 2 youngest granddaughters are 5 yrs. My daughter lives is Bethesda Maryland and she and her family were recently at an establishment that had a pinball machine. Her 5 yr. old is actually quite good at pinball and apparently wowed a crowd at that establishment. The proprietor wanted to know where she learned to play. Pretty funny. And our other 3 machines are also working just fine. Thank you so much. Kirk Oct 2017
(King Kool, Surfer, Jacks Open, El Dorado customer since 2010)
Russ,
Had a chance to visit the Pinball Museum in Las Vegas yesterday. It's some guys personal collection housed in a warehouse in an iffy section of Vegas. He must have 150-200 games, mostly new machines but he had about 40 Ems, including Subway and Bank a Ball. Had fun playing Atlantis, Abracadabra, Centigrade 37, Capt. Card, Pop a Card, Central Park (really cool). Liked Domino and Spin a Card a lot. The early games with the metal posts by the flippers were a lot more fun than I imagined, keeps the game play interesting.

Made me realize what great condition my machines are in and what a great job you did in restoring them. Most of these machines have seen some hard play! Although no one there was playing them, all focused on the 100+ new machines, which I really don't care for. And I have to say I have 2 of the most fun games to play! Anyway, just thought I would pass that along. Hope all is well.

Doug (1966 Subway & 1965 Flipper Pool )
Russ, Still enjoy the Central Park and Rack-A-Ball I got from you years back. Have a couple of young nephews that think they are the greatest. Was wondering if you ever come across any bingo machines. Would really like to see a Miss America,'(57, '75, Deluxe) or most any of the Bally Magic Screens, Mystic Lines etc.. Keep the past alive Clif (March 2016)
Russ & Stacy just wanted to say thanks, Hurdy Gurdy is a great game, lots of fun and really well restored Mark Dailey (March 2016)
I chose to order the first pinball machine from Pinrescue after just talking to Russ on the phone , I was convinced he was a specialized source for EM pins. The machine was prepared and sent to me in Dubai very smoothly. I was concerned about after sale support since I live so far away , however I was able to get all the support I wanted and fast within the same day . This gave me the confidence to order a second machine which I just received in Dubai.

Now I have two pins an Atlantis and an Eldorado . It is an endless joy to play them. I might buy more EM pins in the future and will definitely buy it from Russ. I found in Pinrescue the professionalism and trust I was looking for.

Thanks Russ and Stacy.

Sam
Dubai
September 29,2015

Thank you for sending the lock down bar. We received it yesterday. Also wanted to let you know how much we are enjoying Big Brave. Played until late

on Sat

and my total score was 125,680. I kicked Bill's butt!
Thanks again for everything,
Alicia (1973 Big Brave) September 2015
Russ & Stacy, Sorry it took so long to write you. Sue and I have been thoroughly enjoying Jacks Open since you delivered it to us. We play it every day. It is a fantastic looking machine and plays as good as it looks. You have a great attention for detail and everything works as it did in 1976, when the machine was brand new, maybe better. Your advice on maintaining and adjusting the machine is always spot-on, and it is easy to tell that you know electro-mechanical pinball machines inside and out and have a passion for them.
It's hard to put into words how much we are enjoying Jacks Open. It is a challenging machine but very fun to play, with the drop targets, and the "knock" is so satisfying. It takes me back to summers in the 60's and 70's at the Kutztown Park playing pinball with my friends all day long.
Thanks for Jacks Open and the excellent customer service. It was great fun talking to you and Stacy when you delivered the machine, swapping pinball stories from years ago. I look forward to our next visit, when hopefully you will be delivering Bank-A-Ball to us. Thanks again a super pinball machine and the memories that it brings back to me.
Sue & Ned Parkes
Russ and Stacy,
It has been delivered. We love it. Thanks you so much. Kirk (very nice 1977 Jacks Open)
Dear Russ, We all appreciate advancement in technology but thankfully we have you to bring back "old school" pinball !! If it wasn't for the internet we would have never found you to bring back our high school memories. All the days spent after school just playing for hours on end. I have purchased and traded multiple machines with Russ and he has NEVER let us down. Any problems we have had (which has only been 1) was resolved immediately. If you looking for "old school" pinball Russ is your man to deal with. We look forward to purchasing more machines in the future from Pin Rescue. Thanks for the great service.
Vinny & Linda Marinucci Frederick, Maryland. (1975 Fast Draw, 1977 Jacks Open) May 2015
Dear Russ, Stacy and Annie,

It is with great pleasure that I recommend
PinRescue.com
to friends and enthusiasts seeking the highest quality vintage pinball machines sales and restoration services.
As an avid pinball fanatic for over 50 years, I am resolute that the best pinball machines were built in the "electro-mechanical" era. This is the time frame before 1979, and before computerized digital electronics, when pinball machines had chimes and bells and really beautiful artwork. And as anyone who recalls these charming games from the 50's, 60's and early 70's will maintain, there was that indescribable thrill when that silver ball kept moving and hitting special targets and the knocker would award new games with a "pop-pop-pop" and your heart was racing and you felt like King of the Hill....

Regrettably, pinball machines from the 80's to current time frame are digital and clinical. They just don't make 'em like they used to... Those in the hobby, like me, long for the "good old days," and fortunately, thanks to Russ, Stacy and Annie Snyder of
PinRescue.com
, there is a place to buy expertly restored vintage pinball machines.
It is wonderful to work with the Snyder family and I am always appreciative of their on-going service, advice and attention to detail. Since I have started working with them, I have grown my collection to ten machines. They say pictures are worth a thousand words, so I am enclosing pictures of my game room for you to post on your site.

As noted, the final products are truly works of art that our family will enjoy for many years to come. I am happy to give the highest endorsement and recommendation for
PinRescue.com
as a company who truly strives for customer satisfaction.
Sincerely,
Joel Garblik
Greetings Russ and Stacy, Just a quick note to wish you a great 4th of July weekend. Both Card Whiz and Bank Shot are big hits and great additions to the "arcade". Keep me posted on the glass for Card Whiz and let me what you have in the pipeline.
Geoff July 2014
They say you "can't go back in time" and that there is "no fountain of youth" but thanks to Russ and Stacy and Pinrescue they are wrong. I thought all the thrills and excitement I felt as a teenager playing pinball machines was lost forever and I spent a lot of time and money on "Video Games" just trying to recreate those feelings but nothing worked. But thanks to Russ and Stacy I have traveled back in time and their Pinball Games are the "fountain of youth". Thanks to them I do get to relive my youth everyday with all the thrills and excitement that I thought I lost all those years ago. Yes it's true...."There ain't nothing like the real thing baby" Russ and Stacy I thank you from the bottom of my heart.......Gary V
Hi Russ and Stacy,
Hope this finds you well....been having the best, most frustrating time :), playing my Big Brave. Love, love, love it. A friend of mine was here today, and he loves it, too. I told him that if I can find a Bow and Arrow, I would sell him my Big Brave, since I don't have room for two machines):
Anyway, hope you are still keeping an eye out for one. Was wondering if you have already gone to the pinball show, and if you saw one there. Let me know, and be sure and keep me on the list for one.
Thanks, Karen Hultz (Idaho) June 2013
Hi Stacy- Just wanted you and Russ to know how positive I feel about my experience with Pinrescue and how thrilled I am to have taken the plunge and acquired my first pinball machine. I've a feeling it won't be my last.
William F. Smith 1970 Flip a Card
Dear Russ,

Just wanted to let you know how much we are enjoying our Capt. Card and Playball machines. You are the King of Customer Service, driving 10+ hours round trip to spend an hour or so fixing the Playball machine. I saw on your website the award you've received for "Best in Philly 2012". Congratulations and well deserved. Now I think we need to nominate you here in Pittsburgh! It was a pleasure meeting you and I'm sure that sometime in the future Joe will talk me into another pinball machine and we'll be in touch. Whenever you are out this way don't hesitate to stop and say hello.

Sincerely,
Gloria and Joe Andrejcik


Dear Stacy - have been meaning to write to you - received the game last Friday - looks great - very pleased, and the kids love playing it also. Thank you for a smooth transaction - Best wishes - Sincerely, Jonathan Graff (1975 Eldorado Aug 2012)
Hello, Russ and Stacy:

I've played about 40 games of "Funland" today - the day it arrived! - and am totally hooked. Great game design, and just a very nice restoration. All is working well, and if I have any questions at all, I'll give a call. Consider me a satisfied customer.

Sincerely,
Keith Newell
Spokane, WA
(really nice 1968 Funland )
Russ, Stacey and all the folks at Pinrescue.
I want to thank you very much for the outstanding service and quality in the rebuild restoration of the Gottlieb Slick Chick pinball machine.
I am so enthusiastic with its operation, I find it exciting to play endlessly with her. The hours roll by as minutes.
I finally reached a score of 1326 with the five balls. The sense and thrill of revisiting my youth is indescribable.
Today, I waxed the playfield, not that she needed it, to give her the special care in this beautifully restored machine of the 1960's era.
I am technical person and admire fine workmanship and the quality in a well-built machine. As one knows " Beauty is in the eyes of the beholder" and a "thing of beauty is a thing forever" as they say.
Now my children and grandchildren will experience those happy days and be able to put a smile on their faces as they enjoy the thrill of this pinball machine.
All of this is possible, because you folks had decided to rescue these electro-mechanical machines and restore them to their former glory. Well done and my hat is off to all of you who made this passion of mine come to realization.
My wife and I would love to visit you and say thank you in person sometime in May
God bless all of you..
Regards,
Peter Luciano
March 13, 2012
Pinrescue in Miami - Dior Event!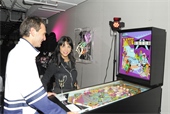 Dear Russ and Stacy,

The event in Miami was a great success ! And the pinball looks very good !
You will find pictures here :
http://www.patrickmcmullan.com/site/search.aspx?t=eventName&s=dior

http://www.gettyimages.fr/Search/Search.aspx?contractUrl=2&language=fr&family=editorial&assetType=image&p=dior+playing+around


We showed the pinball during a special night organized by the creative director of Dior accessories. She is very into pinball, have a look on her video : http://www.youtube.com/watch?v=z7ySNqhiC68

This event was part of a pop-up store that we opened during Art Basel for a special collaboration between german artist Anselm Reyle and Dior. You can find a lot of articles about it on the web.

Warm regards,
Pia
Chargée de Projets Evčnementiels
Russ and Stacy,
I have been meaning to write you guys for a long time! Sept. 30th, we had our rehearsal dinner for our wedding and exchanged gifts. I had ordered online a t-shirt with the Aquarius back glass on it, put it on, and took some pictures next to the pinball machine. I wrapped the shirt and gave it to Steven. When he opened it, the look on his face was awesome, I just gave you a telescope, and you got me a t-shirt... Till he saw what the picture was then he asked where I found it. I then gave him a card saying, your wife to be just gave you a t-shirt, but wait, there's more! On the inside were the pictures of me wearing the shirt next to the pinball machine. He couldn't believe it!!! I then told him it was in the spare bedroom marked no grooms allowed. He was floored! It was a lovely gift that meant a lot to him. His family had the same game growing up but the game was lost in a bad trade by one of his brothers. He was surprised to say the least :-) Thank you guys so much for helping me accomplish this wonderful marriage memory!Tiffany Barnett ( aka Tiffany Heatherly :-) ) 1970 Aquarius
Russ/Stacy,
I just wanted to say it was a pleasure doing business with you. The machine is wonderful (both of them actually) and I am looking forward to sharing it with my family and friends. Thank you for what you do, your hospitality, service and helping me out with the Kiss machine. I hope we can continue to keep in touch and do business in the future.
All the best, John (1972 Big Brave and 1979 KISS... August 2011)
Hello Russ,
The surprise turned out perfectly ! My husband couldn't be more excited over his "new" pinball machine. He told us that now he has something to help him relax. I hope it does , he has never had a hobby, only work,work,work.
Thank you for keeping the past alive with your beautiful work !!!!!
With much gratitude,
Patty Lanier
June 10, 2011
Dear Russ and Stacy: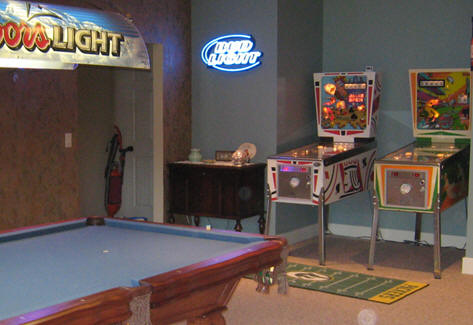 Just a note to let you know we are in our new home and loving it. It took a while but we can say it is pretty much done. Our travel to your fair city last September was one of the best things we have done for our new home. We purchased two machines from you and it fits our new rec room perfectly.
In fact we designed the rec room around your machines and our Pool table. Everyone that stops by loves the two machines. They accent each other in appearance and play. We could not have picked two better machines. Sue and I play them almost everyday. Adults and kids that stop by all want to play the machines. It's fantastic. Thank you - Thank you - Thank you

Thanks again
Dave and Sue Aug 2010)
Russ,
Just wanted to write a note of thanks for you making the road trip out to Lancaster to visit one of your favorite machines--a beautiful El Dorado that you fully restored to mint condition a few years ago. The minor repair was much appreciated and she is back to her old self.

As you know, that machine represents fond memories of my childhood and I can't thank you enough for caring for it almost as much as I do.

Thanks again, Russ, you're the best!

Sincerely,
Steve

Russ,

Just wanted to let you know that everything seems to be working great with the machines. No problems so far with Quick Draw, and seems like the issues with the Card Whiz have been all fixed. We're getting lots of use (and fun) out of all 3 machines, so thanks for everything. I'll let you know when I'm brave enough to try and sneak a 4th machine in there! Hope to see you soon.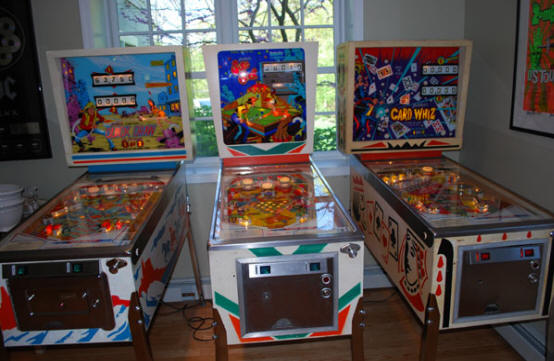 Rick (1975 Quick Draw 1976 Sure Shot and Card Whiz)
Russ:

Thank you for reconditioning my pinball Marble Queen .Playing her brings back many pleasant memories of my brothers and I having pinball tournaments in my parent's basement. I even have a document dated March 1, 1960 that shows the vital statistics of every all the games we played which includes every way to win a free game and the amount of free games won. I have included a picture of the document in this e-mail. I hope you can read it. I am going to frame it along with the ad you gave me and hang it next to The Marble Queen. By the way The Queen now has a predominant spot in my rec room. Thank your friend for the ad of The Queen I have introduced a new generation to pinball neither, of my grandkids knew what a pinball game entailed. They just remember that the game was in the basement gathering dust. Now I have a hard time prying them away from it. They say they never realized how much fun a pinball game could be .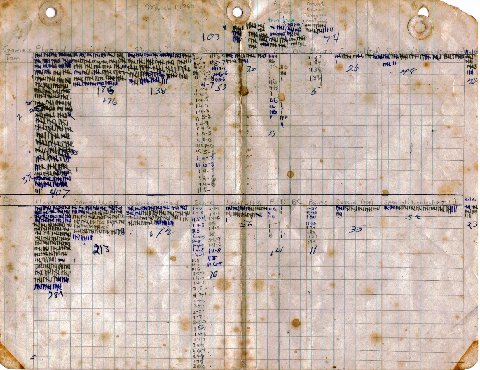 Don's restored 1953 Marble Queen's stat sheet (what a fun nice game …pinrescue)
Hey Russ:

9:54 PM we had completed the setup about an hour ago as I was doing some maintenance on my old car - the bells, the popping the numbers incrementing - feels like we are in the best carnival in the world and its in my own basement! WE LOVE IT AND I LOVE IT TOO!

Will the kids ever get to sleep tonight? Not sure but alot of jumping around / smiles and the WII is dead silent! NIIICCCEE

Much more later - You are a FANTASTIC human being - your kindness has made this night (and many more to come) full of happiness!

I will write a great review and I stretched to buy this machine and I bought it from the right person and very classy individual with a GREAT amount of character and integrity.

From my heart -> THANK YOU!
Tommy (1976 Royal Flush thank you Tommy for the kind words....pinrescue)

Russ & Stacy- this is a long time coming but now that I have been in my new house for a month I have had some time to settle in and play the Spirit of '76 machine that you sold me. The machine is functioning beautifully, in fact I don't ever remember it playing so well all those years ago! The entire experience doing business with you has been a pleasure. When I began my search for the Spirit of '76, which was the only machine I had interest in, I did not imagine that I would find a company like yours and had serious doubt about even finding the machine. From finding the machine for me, the incredible job restoring it and delivery to my door, you have made it easy to take a step back in time and enjoy something I had not had the chance to do in over 30 years. My wife and daughter thought I may be a bit crazy but now that they have had a chance to play they see the fun it provides and we enjoy it together. I can't thank you enough and want to tell you that with all of the people I do business with you have proven to be people who are trustworthy, dependable, accessible and you provide a great service! I will be spreading the word about Pinrescue to anyone I know who may have interest. Take care and hopefully we'll see you again soon- let me know if you make it back to Portsmouth and we'll have you back to the house.

Jon


Russ and Stacey,
I just wanted to let you know that the machine arrived safe and sound, it was a great surprise when I received word it would arrive on Christmas Eve. The movers arrived at about eight in the morning, and I was playing by eight-fifteen, I just wanted to thank you for bringing back the way pinball was meant to be to me personally, whenever I play, there is always a stream of colorful metaphores that waft up from the basement, the sound of the bells, the " CRACK" that comes from the right side of the cabinet when you clear the score for a free game or when you drop the card that gives a free game for the special, it took me back to the days growing up, I was fortunate to have a couple of places to go play, it brought back names like " Drop a Card" " Flying Carpet " " Big Shot" " Grand Slam" the list could go on, Russ, you are a true credit to your craft, and be hind every great man there is a woman, you go stacy, again guy's, in the words of the King, " Thank You, Thank You very much"........

Yours Truly,
Terry Murphy
Proud owner of " Sky Jump" Reconditioned by the master.................
(I don't know about being a Master but I do know everyone at pinrescue does their best to make these Gottlieb machines play like new ..pinrescue)
Hi Stacy
Well the Surf Champ finally arrived yesterday and it looks great and plays very well. There is one gate at the top (2nd from left) that won't score, but otherwise seems to play perfectly. Nice to see it on the calendar as well. Suddenly I'm back in high school. My 11 year old son and video game devotee said, 'wow this is really addicting.'

Dan
(Who owns maybe the only 1976 Surf Champ in Omaha Ne.)
No wonder they called it Funland!!! It is nothing but fun! Many thanks to you and Stacy for making a little girls dream come true at 50 yrs old. Let me know when you get Drop a Card and want to switch out with Surfer......But only for a little while!! Got to go, I have games waiting for me. Hope your ride home was safe and quick.

Thanks again (and Hi to Dr. Rob)
Chrissie !976 Surfer & 1969 Funland (Cape May NJ)

RUSS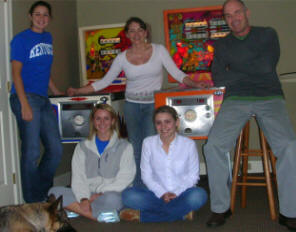 HERE'S THE HAPPY GANG ENJOYING BOTH SOLAR CITY AND SINBAD. I CAN'T BEGIN TO TELL YOU HOW PLEASED I WAS IN FIRST FINDING YOU AND SECOND IN WORKING WITH YOU TO BRING BACK INTO OUR LIVES THESE VINTAGE PINBALL MACHINES.

TO LET ALL OF YOU KNOW HOW GOOD THIS GUY IS:

I FOUND SINBAD ON ANOTHER SITE AND IT WAS IN VERY ROUGH SHAPE SO INSTEAD OF HAVING IT RESTORED BY ANOTHER VENDOR I CALLED RUSS (SINCE I HAD JUST PURCHASED SOLAR CITY) RUSS WENT TO NYC RESCUED SINBAD, SHOPPED IT OUT AND DELIVERED BOTH MACHINES. ON TOP OF THAT I WAS ABLE TO FOLLOW ALONG WITH THE RESTORATION VIA EMAIL PICS RUSS SENT ME DAILY.

THANKS FOR ALL YOUR HARD WORK , MY WIFE AND I HAVE BEEN TRANSPORTED BACK IN TIME YOU TRULY ARE THE DR. OF PINBALL RESCUE!!

DR. JAKE AND FAMILY
Russ,
It arrived in good shape and it was used this past weekend for approx 5 hours. Grandchildren and adults had great fun. Thanks for your good service.

Jim Walker (1977 Jungle Queen)
Russ,

Having a lot of fun with Quick Draw and Sure Shot. Thanks for the seamless delivery.
I am still very much interested in a 1953 Gottlieb pinball machine entitled " Poker Face". Please be on the lookout.

Thanks,
Ellis Cohn (Camden Me.)
Hello Russ,
As a child, I remember playing Big Hit on the boardwalk in Sea Isle. When I found one years later, I just had to buy it. Years of neglect had taken its toll, and the machine was in dire need of repair. Enter Pinrescue. Within a week, Russ had my Big Hit back to 1977 condition! I can't tell you how proud I was to introduce pinball to my 3 small children, just as I remembered it. Russ has since even sent me replacement rubber at no charge to keep my machine playing just like it did back in 1977. I have recommended Pinrescue to all of my friends and neighbors.
Chuck Dougherty (1977 Gottlieb's Big Hit)
Russ,
Thanks for the eldorado. It is perfect. The kids came over Sunday and we played the machine for hours. Loads of fun.
Thanks
Bill Sasser (World Class but not perfect 1975 El Dorado ---pinrescue)
Hey Russ,
I just checked out your page. It looks like you've been keeping very busy! I've had my pins for almost a year now and wanted to tell you how much joy they've brought me. My favorite is Card Whiz and that gets played pretty much every night. Spin Out, Sky Jump, and Jumping Jack also get plenty of play. I just wanted to tell you hi and let you know that I love my pins that I bought from you!
I wanted to drop a line to express my thanks. I have done business with the other pinball vendors, but quite frankly, they shouldn't even get out of bed in the morning. You are a pleasure to deal with and a true professional.

Your attention to detail is obvious when you lift up the playfield and see what looks to be a new bank of relays as well as a spotless cabinet. The "other" vendors may polish the exterior, but lift up their playfields and it look like an old cemetery!! You should know! The 70's Gottlieb's that were used as trade-ins are a testament to that. Cob-webs and dirty! I am confident you will have them refurbished and operating the way they should in no time!

I am just tickled pink over World Fair and Gigi!! They are beautiful. You've got me hooked on the 60's Gottlieb Wedge-Heads.. Who knows? You may just wrestle my Klondike away from me!!

I would wish you good luck, but you don't need it… your work ethic and labor of love in restoring old Electrical- Mechanical pinball machines will bring you and your wife much success!

You have a loyal customer who appreciates your craftsmanship.
Yours truly,
David DiIenno
Newfield, New Jersey (1964 World fair 1963 GiGi)

Russ,
A few overdue words of praise for your work on the 2 pinball machines you serviced for me (1960 Gottlieb Kewpie Doll and 1976 Bally Hang Glider).
Kewpie Doll - Simply put, UNBELIEVEABLE!!! A machine that hasn't seen electricity in over 18 years came to life because of your wonderful work. The memories I had of playing her when I was a kid were immediately brought back the moment I played it. What was so great were all of the features that were working that, to my memory, never worked before. What a joy it has been for my entire family. I am looking forward to the moment when my brothers and sisters get to play it themselves for the first time in as many years.
Hang Glider - What a fun machine. Once again your work exceeded all expectations. She is playing flawlessly. The initial problems that I called you about have been worked out and have not reocurred. I am so impressed with your knowledge of the machines and your ability to lead me to the potential contributors over the phone or via e-mail. That is critical seeing how we are 500 miles apart.
I enjoyed working and doing business with you. The confidence that you displayed while we discussed the restorations was very comforting to me. Especially, with regard to Kewpie Doll as it had recently become a significant part of my family. You also followed through on your commitment to complete the work within a defined time period.
I believe that I am simply "echoing the accolades" of so many others that have come to know you through Pinball.
In appreciation,
Greg Abell (1960 Gottlieb Kewpie Doll & 1976 Bally's Hang Glider)
Russ,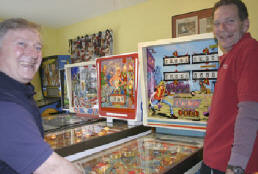 The machine is working great so far and I just recently banged out a new high score of 270,000+ (good enough to win nine games on score for just that player). My next goal is to break 300,000, then after that, I have to attempt to break 340,000 that I got on this machine when I had it in the Woodbridge European Health Spa in 1975-76.
I still have room for another machine. If you happen to find one that you think will interest me, let me know.
Dave Corbin (The Westfield Leader)
Russ, below is a photo of King Pin in action. The machine that has not
seen more than a few minutes of rest since 7:00 a.m. December 25. High
score so far: 89,920. I'm sure I'll roll it over ... if I ever get a
chance to play.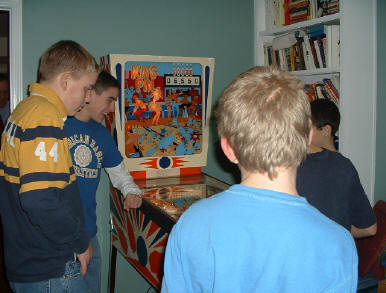 Thanks for the advice and the great repair and restoration. The game
plays flawlessly and beautifully. As my 11 year-old son said (perhaps
unintentionally flattering you and I), "I didn't know something so
old-fashioned could be so fun."

That alone was worth the price.

Ron Ladouceur


Hi Russ -

My dad purchased the Gold Strike from you and gave it to me as a Christmas gift. It is unbelieveable, truly a piece of art. It looks fantastic in my new little game room and plays perfectly. My wife and I are having so much fun with it. It really has become addicting to play. Thank you so much! I love the western theme pinball machines and am glad that Gold Strike is the start of my collection. I may have hooked my dad on vintage pinball machines too. I think he is looking at the Pioneer that you have.

I am already trying to convince my wife we need to add to the collection. How often do you come across Fast Draw? I think it would compliment our Gold Strike and I like the idea of having one that 4 people can play.

Thank you again,
Spencer Marquardt (Fabulous 1975 Gottlieb's "Gold Strike")
Kansas City


Hot Shot is Working Like A Charm

Bill (Spirit of 76 & Hot Shot)

Russ,
Its been a busy summer since I picked up my Buckaroo. I have to tell you how much I have enjoyed playing it after you worked on it. It had been in such rough shape after years of sitting idol you really made a difference. I am sorry I did not write to you sooner but it has really just been recently that I have been able to find time to play and enjoy it. Russ, Thank you very much for a super job!! Hope to do business with you again someday.

Sincerely,
Don Moats 1965 Buckaroo

Russ,
Thank you for your assistance today with helping my family and me in selecting our first pinball machine. Your honesty and integrity are to be commended. We are very excited and happy with our Sure Shot pinball machine and look forward to many days and nights of pinball action.

Best regards,
Eric (1976 "Sure Shot")

Hi Russ

Here's a few lines to let you know How much we are enjoying the Gottlieb Extra inning machine you
restored for us. I found this machine in the basement of a house that had been there more then 20 yr's. It had some issues to be sure. I will continue to let everyone know about your excellent service (which is why I drive over 300 miles). I'm hot on the trail of another machine.
Jed (1971 Extra Inning Buffalo NY)

I had brought the 1975 Gottlieb's "Gold Strike" to Russ at Pin Rescue about a month ago after discovering it in the clean up of junk in a barn in upstate New York. It was so dirty and forlorn looking in which it was almost tossed into the dumpster! I was the one whom saved it as remembering
from my childhood days during the 1970's playing this particular single player wedgehead cowboy theme "add a ball" pinball machine in the bar next to the barn owned by a family relative and had it brought to Russ after cleaning off the barn dust etc... He went over it entirely and did an amazing job in turning the game from near dead to factory new performance! It played strong and fast for an EM pinball machine and am sure it played better than when it was new in the bar back in 1975! I would recommend Russ to anyone for their EM machines! If anyone has any questions regarding Pin
Rescue or the process my machine went through then please feel free to email
me at mreeder307@aol.com.

For those of you reading the testimonials on

www.pinrescue.com and finding them hard to believe, so did I. Well believe them! They are all true - and here is my story:

Russ and Stacy worked on my Bally's "On Beam"and brought a machine that wasn't played on for over 20 years back to life. In fact it plays better now than when I remember playing it before it was disassembled. During the "restore" process, Russ sent me an E-Mail that put a knife in my heart. An integral part of a motor/transmission gear peculiar to certain Bally machines manufactured in the mid 60's was completely destroyed. Russ tried all of his contacts and literally spent hours on line trying to find a replacement for this transmission gear - all but to no avail. I honestly believed my machine was destined to be taken apart and it parts sold for salvage.

Russ then performed a miracle. He went the extra mile and offered to remove this part from his brother's machine, (making it inoperative), to fix mine and hope he would eventually find a replacement for his brothers in the future. Turns out there was another type of transmission mounted motor from a different Bally setup which proved to work out just as good as the original would have had.

I write this because anyone else would have walked away and no one could have blamed them for a gallant try. Russ did not and would not! I believe a part of him dies with every pin he cannot save. To paraphrase an advertising slogan from a major wine company, "Russ let not let any pin "die before its time!" As far as I am concerned, this man walks on water! Lastly, for those of you fortunate to live within Russ's area of service, do not pass up his service contract.

Sincerely,
N.K. Seitz 1969 Bally's "On Beam

Everyone I do business with should be like Russ and Stacy. The purchase was easy and fairly priced and the subsequent service is phenomenal. 28 year old machinery gets quirky...that's to be expected. The few problems I had until they got it right was attended to immediately and with a smile. Russ should give management classes on "doing the right thing for customers" when he runs out of stock.

David Neufeld


Russ,

I just wanted to sincerely thank you for all the help, work, and support you have given me in the past year since we met. To let everyone know, I have bought 2 machines from Russ (Atlantis and Quick Draw). Both of these machines have given me absolutely no trouble at all and they are played all the time, and this is because Russ restored both of them. I recently had Russ go over a Big Hit and Central Park that both had numerous issues, and he was able to get both machines in perfect working order in less than 3 hours! He is truly the best at what he does, and what's more he absolutely loves doing it. I live 7 hours from Russ and do not hesitate to travel whenever needed to get his expertise on repairs. He also has helped by phone on numerous occasions. The local people who have bought from Russ are lucky to have the maintenance contract (what a deal). Russ not only is a great pinball technician, but even though I met him strictly through pinball, I am proud to call him my friend. Jim Cain, Huntington, West Virginia (Quick Draw & Gottlieb Atlantis)


Russ:

The Royal Guard is great! We play it all the time. You did a wonderful job of cleaning it up and getting it working after it sat unused for fifteen years. We were very impressed with the way you picked it up and delivered it like it was your own baby. We also appreciated your honesty and integrity throughout the transaction. We highly recommend you. The sound it makes every time we turn it on makes you feel like you're on the Boardwalk, "down the shore".
Joe Bagley (1968 Royal Guard)


Russ,

Sinbad is down right awesome!!! Thank you again for the great job you did. (and your wife) It's the best it has played since I got it. Sinbad is fun to play again and BETTER! Thanks for asking and maybe we can do business again in the future. Now Judy would like to have a juke box that plays 45's.

Thanks again Bill. (rare 1978 Sinbad EM)

Russ,

You have to be kidding me!!! I can't believe what a great job you have done. The game looks brand new!! The paint looks perfect! I'm really impressed.
Albert P. 1971 "Extra Inning"

Russ,

Just a brief note to thank you again for your superb job in restoring my Bally. It plays like new and takes me back more than 55 years to the days when I played Ballys and Gottliebs in our neighborhood candy store and in the arcades in Atlantic City. Thanks again. Alan Molod (1975 Bally's Hokus Pokus)

Hi Russ,

Don't get nervous. Machine is still working great. I just wanted to tell you (because you appreciate how hard this is) that my son, Ben, just exceeded 100,000 for the first time, and turned the dials back to zeros. Very exciting moment. Gary (1976 Card Whiz)

Dear Russ,

Many thanks for delivering and setting up "Flicker" at our house. As always your service call was prompt, efficient , friendly and informative. The game looks great and plays great, just as "Sure Shot" did before it. You did a wonderful job on the restoration, and it's hard to believe a game this old can still feel so new. A work of art that plays like a toy - what could be better? The only tricky part is getting in a game for ourselves once our friends have spotted it!

Best regards,
Ted & Melinda Tally


Hi Russ
I received my Paul Bunyan Pinball a week ago today. Just wanted to tell you it look's and plays like a brand new machine. I am very pleased with this purchase. I am sure me and my family will get many years of enjoyment from it. I would also like to say it was a pleasure doing business with you ,and talking to you on the phone. You didn't give me the run around, and were very polite, also I appreciate the way you worked with me until I could get the shipping lined up.
I'm sure all of your customers feel the same way I do. Thanks again Russ. You might be hearing from me again soon.
Thanks
Wayne Smith
Dover, TN. 37058

Wow, pinball service extraordinaire! I found Russ on the internet and went to his home not knowing what to expect… super selection of the older machines. Russ is a pinball wizard. He was "possessed" by the pinball spirit!. I bought two machines Jungle princess and Big Deal. He delivered them promptly and set up a breeze. He even educated me on the simpler things in case of mechanical malfunction. Two weeks after purchase a rubber flipper snapped… I have the service contract… he was out at our home within 2 hours!! And saved the day as my 2 kids and the 3 cousins would have been devastated. They have been playing practically non stop!! So, if its older machines you are looking for…you have found the man! He truly is the Pinball wizard!

Sincerely, Stephen Somkuti


Dear Russ,
My Target Alpha was given to me as a very special present about 24 years ago. It probably hasn't been played in the last 20. It just sat there in my parent's basement collecting dust and slowly, as you found, rusting away. My parents have been bugging me for the last 10years to have it moved out of their house into mine. I just kept putting it off because I didn't know where to turn. Recently I gave it a shot and through a basic internet search I was fortunate to come across your website. Those of you that do the same should just stop here and simply make an appointment, no need to look any further. Russ, you have turned what was soon to be a lost treasure into something my whole family can now treasure and enjoy for many years to come. The machine looks and plays better then I can ever remember.

Thanks so much,
The Tauber Family