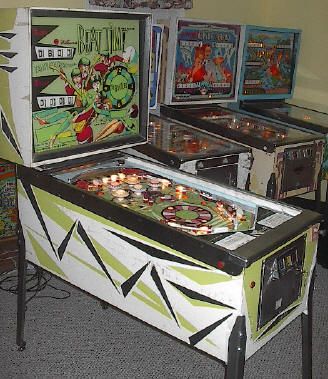 William's Very FAB 1966 "Beat Time" The Beatles!
Pinrescue's favorite band, the Beatles, are featured on this cross collectable pinball machine. Other groovy bands are mentioned on the playfield like "the groaning bones", "the neatbloods", of course "the bootles" and several other bad puns on real bands names. Imagine (my bad pun) a Beatles collectable you can play and enjoy everyday.
Reconditioned mechanically and plays as new. This pin is untouched cosmetically and in nice original shape as follows: nearly mint original backglass, beautiful clean playfield, good clean colorful cabinet with some initials craved into the sides. Pinrescue can touch it up at no addition charge it is up to you. This is a very hard pinball machine to find as just about everyone knows the Beatles and won't part with theirs.
Beat Time's game play is fast and what else fabulous with the five strong pop bumpers and rebuilt flippers, specials, extra balls and a rock around the clock 3:00 - 6:00 - 9:00 - 12:00 roto target.
Lots of pictures of "Beat Time" for you to enjoy (my webmaster will want to kill me so I will give him a plug he has a link at the bottom of this page www.Greggsmith.com he is very good )
This "Beat Time" is in really nice shape and plays correctly. Please remember this is a 39 year old pinball machine and not a new "Benz". However, Pinrescue offers a Mercedes like service contract on Beat Time and all of our machines local to us in Greater Philadelphia area and most of New Jersey. Not local phone/email support forever.

Questions? pinrescue@comcast.net
Price :Sold
Click to enlarge