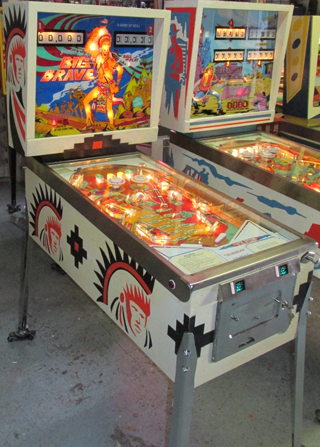 Gottlieb's 1974 "Big Brave" Western Themed. Two player vintage pinball machine for your game room. Freshly restored beginning of October 2017 by Pinrescue, Big Brave has been rebuilt with all new flippers, new pop bumpers, new rubber, new lamps, new legs, new playfield glass, new locks, levers & hardware, new posts, new playfield plastics. Good original art glass, very nice original playfield and great condition original cabinet with some well done touch ups it looks good.. Big Brave is politically incorrect and endless fun, great resetting 5 drop target game with a vari-target and countdown bonus.
Very collectable western themed pinball machine (Pinrescue sells out of these fast) pinball from Gottlieb. The premier manufacture of other western classics like "El Dorado", "Dodge City", "Lawman" , "Buckaroo", "Bronco", "Bonanza" and "Quick Draw" none of which we can keep in stock.
Restored to its former glory, restoration completed end of first week of October 2017 super fun to play. In 1974 when you played Big Brave U.S. President Richard Nixon declares in his State of the Union Address, "One year of Watergate is enough." You, your family and friends will never get enough of this fun Big Brave.
Click here for a short video of our shop and some other 1970ís vintage pinball machines from Gottlieb
"Big Brave" features:
5 Popular drop targets positioned for extra-long skill shots

2 rebuilt Pop bumpers super snappy

1 Varitarget for up to 5,000 points and 5 bonuses Light up B I G for drop target Specials

Thrilling countdown bonus up to 15,000 big points

Double bonus on last ball in play
This nice Big Brave is tuned to play the same as when new. Quality restored vintage pinball machines are a fun investment you and your family can enjoy every day. Muscle Cars from this era are bringing 6 figures when done right. Pinball machines may follow suit as the demand is booming (read Baby Boomers) and the supply of good working games is limited. Just where did the cool guys drive those Cudaís, Camaro's and Mustangs to back in 1974? Straight to the local 7/11, Soda Shop, mall or bowling alley to play "Big Brave".
Pinrescue only works on pre 1977 pinball machines like this nice "Big Brave".
We don't do digital pinball or video games. If you want a vintage pinball machine don't settle for a cosmetically challenged unrestored eBay nightmare that may never ring a bell and you will hate.
Pinrescue has real trouble keeping nicely restored western themed pinball machines in stock many sell as soon as we list them. Don't wait or it will be a long time before we can acquire, transport in and then restore another "Big Brave". Some other lucky family will be enjoying this one while you are waiting to play.
Pinrescue has safely shipped to 45 of the 50 states $500 inside your home fully insured just about anywhere. $250 install anywhere from NYC to Washington DC area.
Price $3500 Sold Washington DC Questions? Pinrescue@comcast.net
Click to enlarge