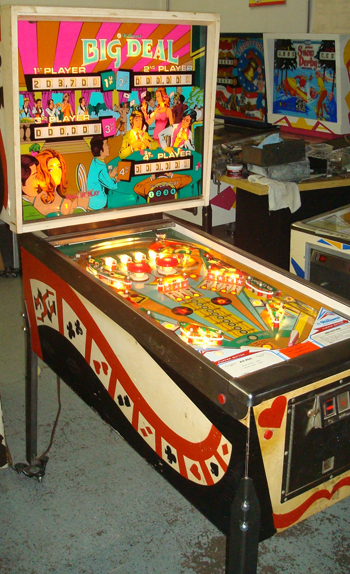 1977 William's "Big Deal" Card themed pinball for 4 players with drop targets. The last electromechanical full production run pinball machine from William's who switched over to digital machines soon after Big Deal.

Pinrescue can not keep card themed machines in stock, it must have something to do with the popularity of Poker on TV now a days. Phil Locke, Gus Hansen or heck Doyle Brunson would all be able to play you on this colorful 4 player pinball machine. Nice pinball machine for you if you already own a 2006 World Poker Tour pinball machine from Stern. Freshly restored (Feb 2011) Big Deal is our only William's card themed machine in stock and ready to ship.

Wonderful action on the art glass Cards flying, girls dancing and interrupting the game big band playing. It could work in your game room. Good condition art glass playfield and good original cabinet, lightning fast game play.
Tons of all the features that made these late 1970's machines so much fun.
7 Drop Targets
Complete 4 aces to light extra ball
Win Extra balls on horse shoe rollover when lit
Scoring up to 999,990
Complete the Big or Deal targets to light 1st star
Complete them again to light 2nd star
Then complete all seven targets to win a special (free game)
Two ultra fast pop bumpers (brand new)
Two rebuilt flippers (all new) Nice return to top of the playfield lane
During 1977 when this nice Big Deal was new Star Wars opens in cinemas and subsequently becomes the then-highest grossing film of all time. Pretty nice condition all round better then average cabinet and playfield excellent glass. Super fast pinball action plays as fast as a brand new pinball machine.

Pinrescue has safely shipped to 44 of the states (any pinball players in the Dakotas?) $400 insured inside white glove delivery ready to plug in and play.
Price $2495 Sold to Evansville, ID questions? pinrescue@comcast.net or call 215 354 0906
Click to enlarge