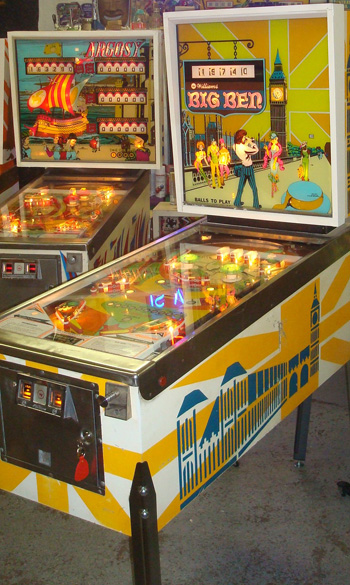 Pinball Game for sale
1975 William's "Big Ben" Hip ultra fast playing single player with drop targets (freshly restored Jan 2012) ready for your game room. Cute British themed pinball machine with fashion models out on a photo shoot near the famous clock. Big Ben has all the great features that made these mid 1970's
machines so much fun.
Make the 3 drop targets twice to win an extra ball

Spell B I G twice to light the Special

Specials or extra balls awarded for high scores

Two rebuilt powerful pop bumpers

End of game match
Excellent all round cosmetic condition plays as fast a brand new modern pinball machine. Clean as can be inside and out and ready to play. Some things that were happening in 1975 when Big Ben was new 37 years ago:
Bruce Springsteen releases his third album, Born To Run, widely regarded as one of the greatest of all time.
The film version of The Who's Tommy premiers in London featuring "Pinball Wizard"
Saturday Night Live debuts on NBC
Muhammad Ali beat Joe Fraser in the "Thriller In Manila" match
Don't wait another 3 decades to buy that pinball machine you always wanted they may all be gone.

Pinrescue has safely shipped all over the USA inside your home fully insured installation runs $400

Price $2495 (sold Williamson WV) Questions? Russ 215 354 0906 or pinrescue@comcast.net