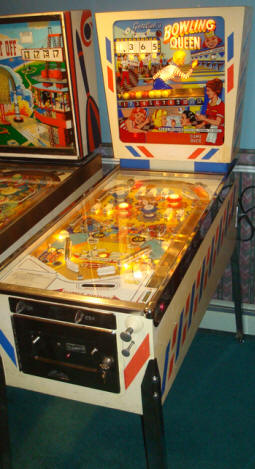 1964 Gottlieb's "Bowling Queen" Beautiful original condition Bowling Queen such a good machine Gottlieb remade it 3 times. The first was 1962 Rack a Ball then this 1964 Bowling Queen and 5 years later 1969 Mibs. These three all shared the same great playfield layout and animation Bowling Balls line up for free games.
These vintage pinball machines from the mid 1960's are becoming hot collectables. Pinrescue has spent all summer getting quality machines like this Bowling Queen ready for sale. Freshly restored Sept 2012 this Bowling Queen looks like it is 49 days old not the 49 years old it really is. Time marches on actors born in 1964 the year this Bowling Queen was new. Nicholas Cage, Keanu Reeves, Sandra Bullock and my favorite actress Marisa Tomei all turn 50 next year. Marisa was an Academy Award winner in "My Cousin Vinny" as Mona Lisa Vito go rent it.
Great Bowling Graphics are all over this classic pinball machine with these nice features :
· Animation unit kicks bowling balls in the head
· 4 brand new pop bumpers and cap
· 2 rebuilt flippers
· 3 lollypop targets light the Specials
· Specials for balls lined up in the head
· End of game match
Machines like Bowling Queen were fixtures in arcades and Bowling alleys across America back in the day. Just as much fun in your home now. Dad this is a game you can actually beat your kids or grand kids playing. Way cooler than any Wii or video game.
Price $4000 sold Burns, WY -- Pinrescue' s 1st sale to WY! includes in your home installation anywhere in the lower 48 states insured and ready to play