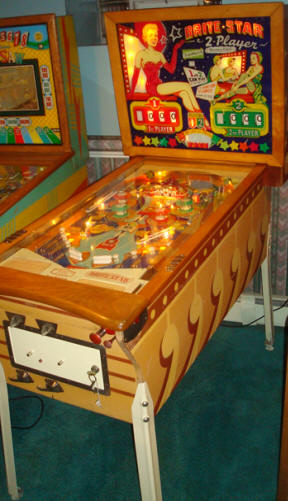 1958 Gottlieb's "Brite Star two players. Home Use Only never in and arcade or bar extremely low play example of a 54 year old all original pinball machine.
Beautiful original art glass playfield and cabinet they are only original once. This is the nicest original condition vintage pinball machine we at pinrescue have ever seen in the 2+ decades we have been restoring pre 1977 pinball machines full time. It has a couple of rub marks on the cabinet and playfield and glass but all in all is just a gem for a 54 year old original pinball machine. Freshly restored Sept. 2012 with all new rubber, lamps, flipper parts it is clean as a whistle inside and out and when we sell it we will all miss her. The woodrails and unique boomarang hand rest are in great condition see detailed pictures below. The roto target faces look new again all original.
Playing Features found on Brite Star:
· Hit roto star to light 10 X value
· 3 rollover buttons light pop bumpers
· Left and Right triple outlanes with timely nudge you can save the ball
· 4 beatuiful original pop bumper caps
· Like new Roto Target changes points values
· Double match feature if both players number matches at the end of the game the machine awards 10 replays!
Some actors born the year Brite Star was made, Sharon Stone, Madonna, Drew Cary and one of my favorites Ted McGinley (Married with Children, Love Boat)
Don't wait another decade for that vintage pinball machine you have always wanted they may all be gone.
Price $5000 (sold Ocean Pines MD) installed in your home ready to play.
Questions? pinrescue@comcast.net or call Russ 215 354 0906