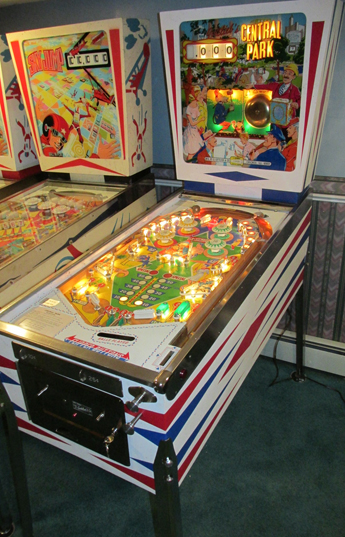 1966 Gottlieb's "Central Park" Classic vintage pinball with animation (monkey rings the bell) cute family friendly fun. Central Park is one of the most desirable pinball machines from the 1960's. Pinrescue and everyone else loves to watch the monkey ringing the big bell every 100 points. Restored the way you would do it if you had the time, parts and ability and a beautiful Central Park to begin with, over 60 hours labor and tons of brand new parts in the restoration (completed Mid November 2017). Some of the new parts Pinrescue's crew installed on this gem: Brand new monkey in the head unit, Brand new flippers, brand new pop bumpers, new shooter, ball push up, playfield glass, legs, locks, flipper buttons, 10 new bulls eye targets new door coin entry lockdown bar and hardware.
Pinrescue has real trouble trying to keep fully restored Gottlieb pinball machines in stock. Donít wait or this nice Central Park will be on itís way to someone elseís game room.
Near mint original art glass, beautiful playfield and a nicely restored cabinet . This Central Park plays as good as it looks hard to believe it is 51 years old. Back in 1966 the Beatles released the Revolver album and Grace Slick performs live for the first time with Jefferson Airplane and Gottlieb released Central Park. Playing this machine is like taking a trip back in time.
Notable features found on Central Park:
Animated Backglass Bell ringing monkey

Four new snappy pop bumpers

Two all new flippers

Complete the 1 thru 5 or 6 thru 10 Bulls Eye targets five times to light the easy to hit Specials Last Ball in Play light on the glass

3 different sized bells including the large bell in the art glass End of game match awards replay.
Muscle cars from 1966 are bringing 6 figures if correctly restored classic pinball may follow suit as many times those Hot Rods were driven straight to the local pinball place for some good clean American fun. Unlike that 1966 GTO this Central Park comes inside your home for everyone to enjoy.
Price $5500 Sold Manhattan NY - installed in your home ready to play Questions? pinrescue@comcast.net or call russ 215 354 0906
Click to enlarge