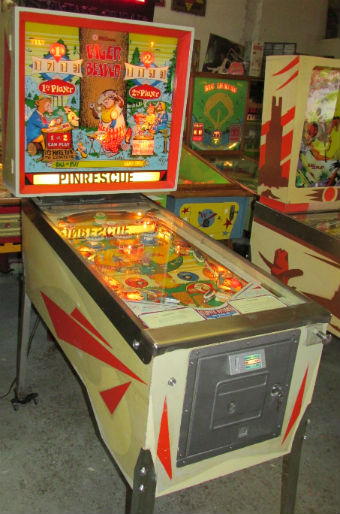 1965 Williamís Eager Beaver
Rare hard to find cute as a cozy cabin pinball machine for two players. Lots of family friendly wildlife all over the machine Bears, Moose, Squirrels, Beavers, Rabbits, Ducks and more. Rare early drop target game with advertising display. Operators could customize the machine for the location for example Hill Top Lanes or Mikes Bar and Grill. Now you can customize it for your cabin, country home or vacation home. Freshly restored mechanically February 2018 ( yes the Eagles just won the super bowl ). This is the only Eager Beaver we have ever seen in our 20 years doing vintage pinball full time. They just donít come around often.
Over the top art work cartoonish and family friendly, pretty nice original art glass with some paint loss. Sharp clean original cabinet with a few well done touch ups. Great original playfield with minimal wear and tear. Clean as can be inside and out please examine our clear pictures below.
Eager Beaver is complete with the three coin acceptor from the factory one game for a nickel two for a dime and 5 for a quarter. Rare to find them in working condition.
What was happening in music in 1965 when Eager Beaver was brand new? Bob Dylan shakes up the folk world by going electric releases Highway 61 revisited. The Beatles preform in Shea Stadium in NY worlds first stadium concert.
Fun Features on Eager Beaver:
3 drop targets
2 kick outs that shoot out at the drop targets
4 pop bumpers
4 rollover buttons
2 stationary targets
Extra balls
Double match awards 5 replays
Just a feature packed game from Williamís plays fast and strong for a 1965 machine. Just mechanically restored February 2018.
We have safely shipped all over the USA $500 inside your home ready to plug in and play. Less if you live anywhere from Boston to Richmond.
Price $3500 Questions? pinrescue@comcast.net or call us 215 354 0906 russ or stacy
Click to enlarge