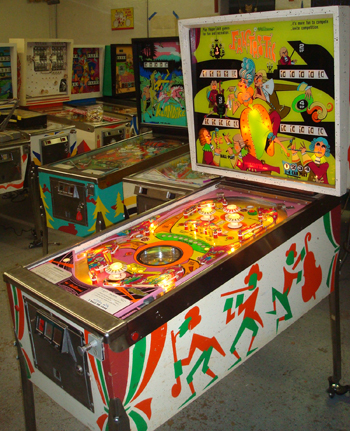 1972 William's "Fan-Tas-Tic" four player classic pinball fun for your whole family. Feature rich Fantastic has all the popular 1970's pinball elements that make these machines in such high demand. This excellent all round condition machine has a beautiful playfield, backglass and cabinet just the way Pinrescue likes them before we do our 30+ hour mechanical restoration (just completed mid Nov 2008).
Great features found on Fantastic:
Roulette style spinner under the playfield, Left kick back lane Right return to shooter gate Between Flipper jet bumper for heroic saves Return to top left lane Three kickout holes which spin the roulette wheel Four brand new jet bumpers (Super fast action) Two brand new Flippers Light the three stars for extra ball End of game match

As clean as a pinball machine can be and plays as fast and strong as when new 36 long years ago. During 1972 when machines like this very sweet Fantastic was in all the arcades Carole King won Record, Album and Song of the Year, while Carly Simon takes the Best New Artist award. Carole King made it big with "It's too late" don't wait or this Fantastic will be on it's way to some other families game room and it will be "too late"....
Pinrescue has real trouble finding, shipping in and then restoring these nice quality vintage pinball machine many sell as soon as we list them.

Price $2795 (sold Hamilton Twsp NJ) safe insured inside "white glove" delivery runs $400
Questions pinrescue@comcast.net or call 215 354 0906

Click to enlarge