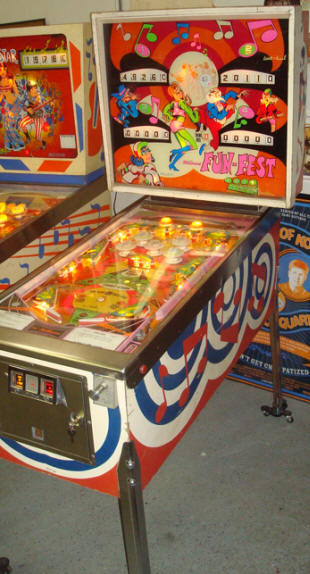 1973 William's "Fun Fest" Now you and your family can enjoy the four player fun of 1973 Funfest pinball machine! Really plays well and extra fast! Nice cosmetic condition good playfield, good art glass and pretty good original cabinet. Freshly mechanically restored (June 2011) and plays beautifully ready for your game room.

Feature packed pinball from William's in 1973:
Pink "Swing Reel" in the head keeps track of number of swings
4 Swings awards an extra ball
6 Swings awards a replay
5 rebuilt pop bumpers (super fast action)
2 rebuilt flippers (strong and snappy)
Left lane kick back into play when lit
Right lane return to shooter gate
Between Flippers pop up post get all three lit and you cannot lose the ball (until the post comes down)
Center Swing target awards points or opens the right gate
Top center saucer awards "Swings"
Funfest has just about every feature they made in the 1970's with love it or hate it artwork. Vivid colors could work in your game room. The top movies in 1972 where Funfest was a fixture in the lobby of many movie theaters "The
Godfather" and "Deliverance". Owning a vintage pinball machine is an investment in fun for your whole family.
Follow this link to see a short video of our shop and some other Gottlieb machines we had in the past http://pinrescue.com/games/video/abbra/abra.wmv

PinRescue has safely shipped to 40 of the 50 states insured inside delivery in the lower 48 runs $400

One of our lower priced machines because of the just average condition cabinet, playfield and art glass. Wonderful first pinball machine with 4 players.
Price $2295 (sold Allentown PA) Questions? pinrescue@comcast.net or russ 215 354 0906
Click to enlarge