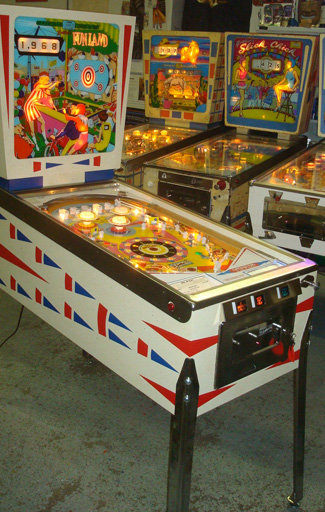 1968 Gottlieb's "Funland" Carnival/Amusement park/Boardwalk theme "Step right up and win a prize". Perfect for a beach or shore home. Featured in the opening scene in the 2007 James Bond movie Casino Royale go rent the movie. This particular "Funland" is in MUCH better shape then the one in the movie.... Pinrescue has restored many 1968 Funland's see pictures below this is our nicest one yet. We installed all the best parts from 4 different Funlands to put together this really nice machine.

Fun, Fun, Funland features:
Two Spinning Duck targets to award 5 points, 50 points or 500 points
Ducks also spin the center playfield spinner to award numbers
20 ways to win a Special after numbers are completed (the most ways to win Specials on any game ever)
Win games for scores and last number match
Beautiful game from 1968. Restored cars from this year are bringing 6 figures when done right. Pinball machines may follow suit as Pinrescue cannot restore these old classics fast enough to keep up with the booming demand (read Baby Boomers). When this stunning Funland was in all the arcades the minimum wage in the USA was raised to $1.60, a gallon of gas was 34 cents and the average cost of a new home was $14,900.

This Funland has beautifully restored to original cabinet , a near perfect original art glass and completely rebuilt playfield (restoration completed Jan 2012). Plays like a dream come true. If you always wanted a restore vintage pinball machine maybe this Funland is for you. Local to us greater Philadelphia area a low cost long term service contact is available not local we will provide phone/email/parts support to keep your pinball machine fun.

Our price includes local to NYC to Washington DC install and one year warrantee or anywhere else installed on a first floor ready to play.
Price $3700 (sold - Spokane WA) installed in your home Questions? pinrescue@comcast.net 215 354 0906