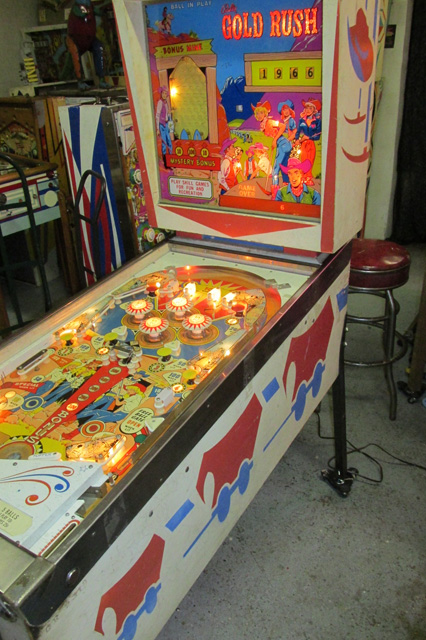 1966 Bally's "Gold Rush" Single player dependable pinball fun in a rare machine. Nice back box animation as the Mystery Bonus ball kicks up after each ball in play. Freshly restored April 2017 ready for your cool game room. Parker Schnabel and Tony Beets eat your heart out, they are the stars of the Discovery Channels big hit "Gold Rush".
Great pinball action with 4 rebuilt pop bumpers and a ball save saucer. "Gold Rush" is a western themed pinball machine that is always a tough one to find in
any condition. This one is in nice cosmetic shape all round with a nice original playfield, good original art glass and very nice original cabinet. Mechanical restoration completed April 2017.

Super advanced features from 1966:
Mystery Bonus (animated) ball kicks up in the back box

Gate guarded bonus mushroom bumper

Between flippers saucer kick up (opens gate to advance bonus)

Free Ball Gate returns ball to shooter

4 rebuilt pop bumpers

7 Mushroom bumpers

Can be set for 5 balls per game or 7 balls per game!

The big must see western movie from 1966 was the classic "The Good, the Bad and the Ugly" don't wait another 4 decades to own a vintage pinball machine they may all be gone.
All American made in Chicago by Bally Gold Rush featured the finest in materials, craftsmanship and engineering. Top quality the Germans and Japanese can't touch.


Pinrescue has safely shipped to over 40 of the 50 states inside your home fully insured shipping runs $500 ready to plug in and play.
Price $3,000 -Sold-Wardensville, W VA
Questions? pinrescue@comcast.net or 215 354 0906 russ
Click to enlarge