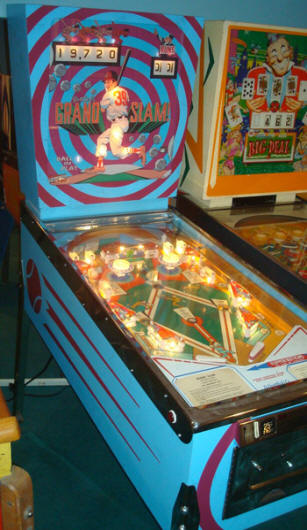 1972 Gottlieb's "Grand Slam" beautifully restored classic baseball themed vintage pinball machine.
Popular roto target game from Gottlieb kickout holes light up for men on base. In the year 1972 when this very nice Grand Slam was new Volkswagen Beetle sales exceed those of the Ford Model-T when the 15,007,034th Beetle was produced.
Unlike the 15 million + Beetles only 3,600 Grand Slams were ever made and only in 1972 39 long years ago.
Quality restored vintage pinball machines are a fun investment you and your family can enjoy everyday. Muscle Cars from this era are bringing 6 figures when done right. Pinball machines may follow suit as the demand is booming (read Baby Boomers) and the supply of good working games is limited. Just where did the cool guys drive those Beetle's, Corvette's, Camaro's and Mustangs to back in 1972? Straight to the local 7/11, Soda Shop, mall or bowling alley to play games like "Grand Slam".
Some of the nice features found on "Grand Slam"
Classic roto target which awards Singles, Doubles, Triples and Home Runs.
Playfield outholes light up for runners on base.
Win replays for high scores and runs scored.
End of game match
Vintage Baseball graphics from Gottlieb
Beautiful reconditioned cabinet, excellent original playfield and mint reproduction art glass! Pinrescue has restored many Grand Slams over the years and this is the nicest one we have found before doing our 30 hour mechanical restoration (completed November 2011) and I'm sure double that time went into the cabinet restore. This machine looks nearly new and plays same as when it was new.
Price $5000 (sold New Hope PA) includes installation inside your home anywhere in the lower 48 states ready to plug in and play. Questions: pinrescue@comcast.net or call russ 215 354 0906
Click to enlarge