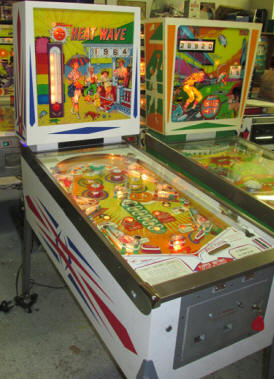 1964 William's "Heat Wave" Beautiful restored 50 year old animated pinball machine. Freshly restored late December 2014. One of the very best from William's in their long history making pinball machines. Game play you try to raise the temperature from Frigid to Blow Your Top on the MINT original New Old Stock art glass. Hit the moving targets or shoot for the drop target to win big points or a special on the near mint original playfield. The restored to original cabinet will be a compliment to any cool game room. Dads & Grand Dads vintage pinball is now Mom approved since Restoration Hardware has started selling restored machines.
These vintage pinball machines from the mid 1960's are becoming hot collectables. Pinrescue has spent all the long hot summer getting quality machines like this Heat Wave ready for sale. Completed the restore late December 2014. Time marches on actors born in 1964 the year this Heat Wave was new. Nicholas Cage, Keanu Reeves, Sandra Bullock and my favorite actress Marisa Tomei all 50 this year. Marisa was an Academy Award winner in "My Cousin Vinny" as Mona Lisa Vito go rent it.
Great Heat Wave graphics are all over this classic pinball machine with these nice features :
· Animation unit raises the Temperature
· 5 brand new pop bumpers with beautiful original caps
· 2 rebuilt flippers
· 2 Moving lollypop targets reset the drop target
· Specials for lighting Blow Your Top
· End of game match
Lots of pictures of this beauty thanks to my great web guy Gregg Smith he has a link at the bottom of this page.
Machines like Heat Wave were fixtures in arcades and boardwalks across America back in the day. Just as much fun in your home now. Dad this is a game you can actually beat your kids or the grand kids playing. Way cooler than any Wii or video game.
Price $5000 installed ready to play in your home Questions: pinrescue@comcast.net or call russ 215 354 0906