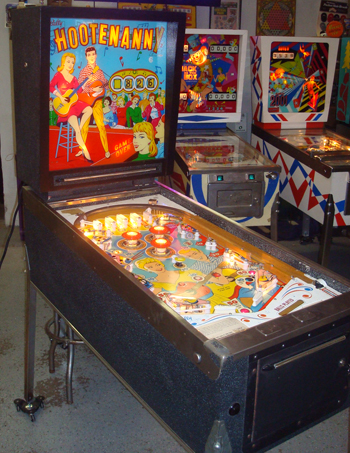 1963 Bally "Hootenanny" Music themed pinball machine with an Elvis Presley look-alike on the very good condition art glass. Nice condition playfield mechanically rebuilt (Jan 2009) Homemade repaint on the original cabinet with chrome trim ....go figure?

Lots of fun Bally features from 1963:
Spell HOOTENANNY to win 2 replays this feature carries over game to game Light 1, 2, 3 to open all three gates for a free ball this feature carries over game to game
3 Fast bally thumper bumpers\
Complete A,B,C,D to light outlanes for 50 points Unique spark plug post activates top left kicking rubber sending the ball into the bumpers End of game match for replay
"Hootenanny" has lots of pretty girls and handsome guys enjoying the duet playing acoustic guitars. In 1963 when this Hootenanny was brand new The Beatles release their first album Please Please Me 46 long years ago.
One of Pinrescue's lowest priced machines only because of the ugly cabinet repaint we can restore the cabinet to original but it will more then double the sale price.
Price $1700 (sold Shirley, Ill ) shipping runs $400 just about anywhere in the USA (1/2 price on shipping to Nashville or Memphis!)