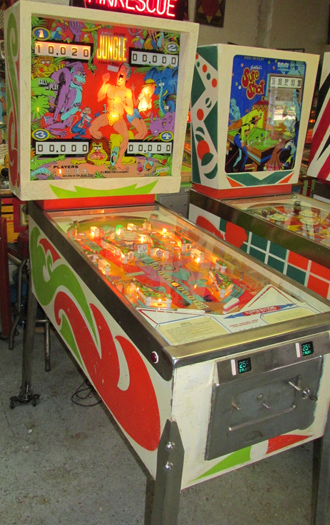 1972 Gottlieb's "Jungle" Cute fun four player vintage pinball from 1972. Family friendly classic pinball just rebuilt in January 2018 ready for your game room.
Pinrescue loves the simple yet engaging game play, the cute as can be backglass and the overall look and feel of this early 1970's game. Colorful machine with a nice original art glass a beautiful original playfield and a pretty good looking cabinet with good chrome and light touch ups here and there. If you remember playing Jungle back in the day don't wait as this is the first one we have been able to list on our webpage since 2005.
Great action with :
Captive pop bumper all brand new parts

Lion and Lion Tamer spinner

10 star rollovers (all brand new)

Countdown after ball bonus up to 20,000 points

Ball return gate and a kick back gate for extra long play

Specials when bonus reaches 10,000

End of game match

Double bonus on last ball in play
We have safely shipped all over and offer long term low cost annual service contracts local to us.
Not local? Phone/parts/email support pinball is no fun if it doesn't work.
Wild Life is as clean as a pinball machine can be and is ready for years of service in your game room. Don't wait or this machine will be on it's way to someone else's home. Shipping runs $500 just about anywhere USA less if you live anywhere from Boston to Richmond.
Price $3000 Questions pinrescue@comcast.net or call Russ or Stacy 215 354 0906