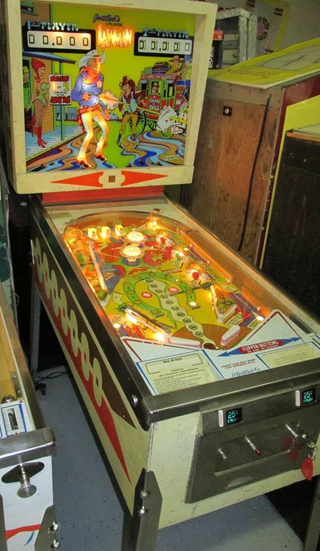 1971 Gottlieb's "Lawman" 2 player western themed pinball fun with 10 drop targets. Mechanically restored November 2016 very nice original playfield, art glass and cabinet and ready for your game room. Everyone at Pinrescue has been hard at work trying to get machines listed on our webpage for the holidays we nearly sold out in October! Many thanks to all our customers.
Fantastic game play like you remember from 1971 open the ball return gate for an extra ball, build up the bonus for up to 30,000 points, knock down all the drop targets to win a special. During 1971 when this very nice Lawman was brand new Don McLean released his hit song "American Pie", Led Zeppelin "Stairway to Heaven" , John Lennon "Imagine" and Sly and the Family Stone "Family Affair" your family and friends will love playing Lawman. Don't wait another decade to get that vintage pinball machine you have always wanted.
Nice features found on Lawman:
10 brand new horse shoe drop targets make them all for a free game

2 brand new flippers

2 brand new pop bumpers

Ball return gate

Count down bonus up to 30,000 points on last ball when the bonus is doubled

End of game match
Click this link to see some other Gottlieb pinball machines Pinrescue restored in the past
Lawman was so popular that Gottlieb released it again in 1975 as Atlantis. Lawman is in the top ten all time vintage pinball machines on the pinball database. Pinrescue has real trouble keeping these nice western themed pinball machines in stock many sell within days of us listing them. We have safely shipped all over the USA inside your home fully insured shipping is included.
Price $4000 sold Yoakum TX installed in your home ready to play less if you are near Washington DC to New York City
Questions pinrescue@comcast.net or call us 215 354 0906