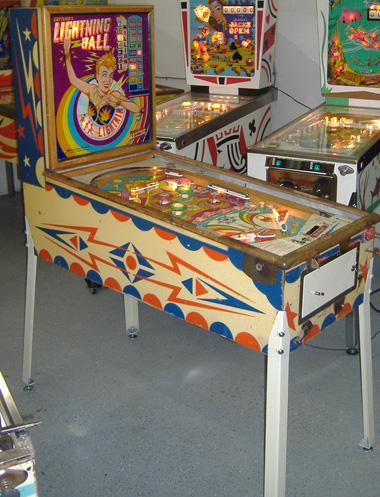 1959 Gottlieb's "Lightning Ball" as American as Baseball and Hot Dogs! Adorable animation unit in the head band members march the letters in lightning ball into a screen in the glass. One of the last wood rail pinball machines from the best in electromechanical pinball machines Gottlieb. Super fun and super collectable condition as follows nice cabinet and playfield ok original backglass (or a new perfect reproduction whichever you prefer). This 47 year young machines plays like lightning with every feature working correctly and tuned for fast 1950's action. Vintage machines in nice original cosmetic condition are far and few between don't miss out on this Lightning Ball.
Pinrescue only works on pre 1977 pinball machines like "Abra ca Dabra" we don't do digital pinball or video games.
As with all of our machines we offer long term service contracts local to Philadelphia Pa. and most of New Jersey. Not local, we have safely shipped all over the country.
Price $3295 or $2995 with original backglass.
(Sorry sold Monroe Twp. NJ)