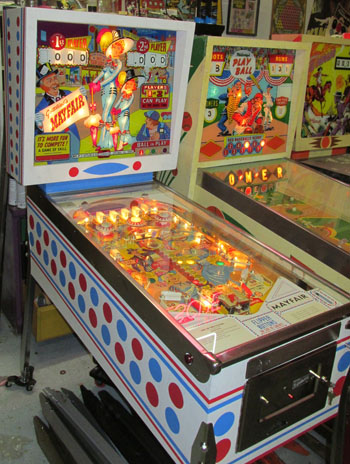 1966 Gottlieb's "Mayfair" Collectable and Cute, Two Player pinball machine. Family friendly "get me to the church on time" pinball for your game room. The theme is based on the Academy Award winning movie "My Fair Lady". Last machine with Roy Parker artwork who did the best artwork in the 1950's and 1960's for all three major pinball machine manufacturers. Highly collectable in wonderfully restored condition. This restoration was completed mid-December 2015. Pinrescue sold out this year before Black Friday, seems like vintage pinball is more popular than ever. Our Mayfair plays like a dream come true.
Mayfair has a beautifully restored cabinet with all new legs, coin door, coin entry, side rails, cabinet buttons, locks and hardware. Mechanically restored with new flippers, pop bumpers, rubbers and lamps. It has a new perfect art glass and new playfield glass. It is clean as can be inside and out, top to bottom. Does it cost us more to do it right? Of course it does. When you play a correctly rebuilt classic pinball machine it is like taking a trip back in time.

This pinball machine has nice features including a snap target and two turret shooters between the flippers a count down bonus for up to 200 points. Three rebuilt pop bumpers provide lively action from a 1966 pinball machine. Mayfair could work in your game room.

Mayfair would make a perfect gift for someone turning 40, 50 or 60 in 2016 as this was a 1966 machine. Our customers are thrilled when the Pinball Rescue Truck pulls up with a freshly restored beauty for your game room. Not local our price includes insured shipping and set up in your home.

Nicely restored, perfectly working 50 year old pinball machines, are few and far between. If you are going to buy a vintage machine why not get one in beautiful cosmetic as well as mechanical shape.
Pinrescue has safely shipped all over the USA. $500 inside your home ready to play less if you live anywhere from Boston to Richmond. Top Quality has its price…
Price $5,500 Sold Allentown NJ Questions pinrescue@comcast.net 215 354 0906
Click to enlarge