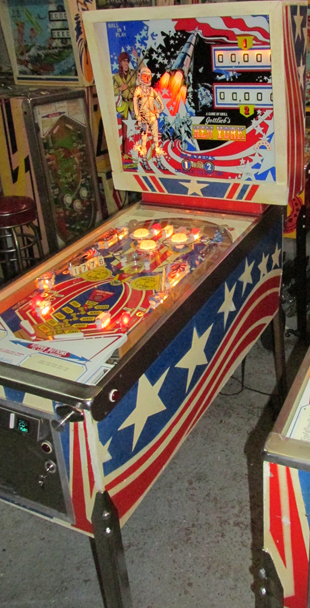 Vintage Pinball Machines for sale:
1976 Gottlieb's 2 player "New York" Patriotic pinball at its best! Very Rare add a ball version of Gottlieb's wildly popular Spirit of 76/Pioneer.
Historically significant pinball machine Gottlieb only made 300 of these machines celebrating the return of pinball to NYC. They made an incredible 10,300 Spirits of 76, a huge 3,625 Pioneers and a paltry 300 New York's. Very rare pinball machine freshly restored August 2017.
In 1942 then Mayor Fiorello La Guardia banned pinball in NYC ordering city police to smash any machines they found. In a Supreme Court affidavit La Guardia wrote "Pinball is a racket dominated by interests heavily tainted with criminality which robbed the pockets of school children of nickel and dimes given them as lunch money"
Pictured below undercover police in NYC smashing a pinball machine
Gottlieb's tribute to America's Bicentennial and the return of pinball to New York City. New York is a family friendly machine with the Saturn Rocket, Daniel Boone, Neil Armstrong, The Spirit of St Louis and the Lunar Lander on the backglass. Professionally restored mechanically (completed August 2017) plays like 1976 all over again. What a wonderful pinball machine. Pinrescue purchased a new old stock original playfield a number of years ago. We held on to it for an over the top restore and here it is installed in this rare New York pinball machine completed August 2017.
Pinrescue is very proud to offer one of the most desirable multiplayer pinball games ever created. Super popular and very rare "New York" sister machine to the more common Spirit of 76 and Pioneer. We cannot keep these Pioneers/Spirit of 76's in stock I'm sure New York will find a happy home. Some TV shows that premiered in 1976 when this New York was really new were "Charlie's Angels" "Family Feud" and "The Bionic Woman". If you have always wanted a vintage classic pinball machine don't wait another 40 years or they all may be gone.
Fantastic pinball game play:
Win extra balls by making A-B-C-D-E lanes and Specials by making all the Drop Targets and A-B-C-D-E lanes

Countdown bonus of up to 60,000 and you can get it without losing the ball in play!

8 drop targets 1976-1776

3 rebuilt pop bumpers

Hole awards Extra balls or Specials or Double Bonus when lit.
Tremendous all round condition NEW OLD STOCK mint playfield yes brand new 40 year old playfield just installed , very nice original cabinet and mint original art glass! (mechanical restoration completed August 2017). Game plays just like you remember in 1976 for two players every feature works same as day one. New York like all of our machines for sale is ready to ship. Ready to play and enjoy! Dad get something in the game room you can actually beat the kids playing.
Pinrescue knows and loves New York, Pioneer and Spirit of 76 and have restored dozens of them over the years. But only one other New York! Please follow this link http://www.pinrescue.com/games/pioneer_spirit.html to see the Pioneers and Spirits of 76 we sold earlier and more info on this fantastic multi player game from the premier manufacture of electro- mechanical pinball machines Gottlieb.