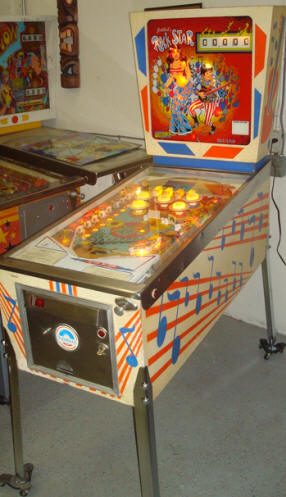 1978 Gottlieb's "Rock Star" very rare music themed pinball machine last of it's kind as the pinball industry had already gone digital. Most of the 268 Rock Star machines ever made were exported. Rock Star has the desirable addaball feature where you win free balls it makes for long games in your home. Mechanically restored (mid June 2011) it plays like 1978 all over again. This is the only Rock Star Pinrescue has had the pleasure of restoring and when it is sold good chance we will not get another any time soon.
Great original cosmetic condition as follows: Very nice original art glass, playfield and cabinet some light minor operator touch ups here and there nicely done. Gameplay is fast and furious with 5 brand new pop bumpers and the unique off set flippers (one is place higher up then the other) 8 music note targets 2 music themed spinners and a kick out hole. Rock Star also features a true skill shot each ball in play you get a chance at 10,000 point plunger shot again unique from Gottlieb in 1978.
In the music scene during 1978 the rock stars topping the charts were the Bee Gees, Meatloaf and Queen. Don't wait another 30 years to get that vintage pinball machine you always wanted they may all be gone.
Follow this link to see a short video of our shop and some other Gottlieb machines we had in the past http://pinrescue.com/games/video/abbra/abra.wmv
Pinrescue has safely shipped all over and can get Rock Star set up in your game room just about anywhere in the USA inside ready to plug in and play shipping runs $400 fully insured.

Price $3900 (sold Middletown DE) Questions? pinrescue@comcast.net or russ 215 354 0906
Click to enlarge