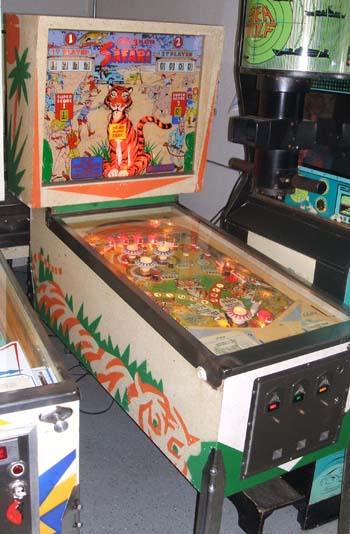 1968 Bally's two player "Safari" Cute cartoon graphics parody of ESSO's (EXXON) 1966 ad campaign "To put a Tiger in your Tank". Politically incorrect and some Mom's will not like the guns, most Dad's will like the girl's. Very good condition playfield and glass ok clean cabinet with some light touchups looks good. Hard to find machine as Bally only made 1,100 of them in 1968 How many can be left in this finely restored 100% working condition 39 years later?
Unique features found on Safari:
Early "skill shot" off the shooter rebound
Ball Return to Shooter Gate
Score more Gate (top right playfield)
Super score reels for replays for each player
T I G E R T R A I L bonus advance
4 Mushroom Bumpers and 3 Pop Bumpers
Restored the way you would do it if you had the time, knowledge and energy to do it right. Plays fast for a 1968 pinball machine. Cars from this era are bringing 6 figures if done right, Safari does have the high octane ESSO tie in. One can only wonder what it would bring if it was on the block at Barrett Jackson's Auto auction? In the mean time it is an investment you and yours can enjoy everyday.
Insured shipping runs $400 inside deliver on a first floor ready to plug in and enjoy.
Sorry Sold to www.papa.org