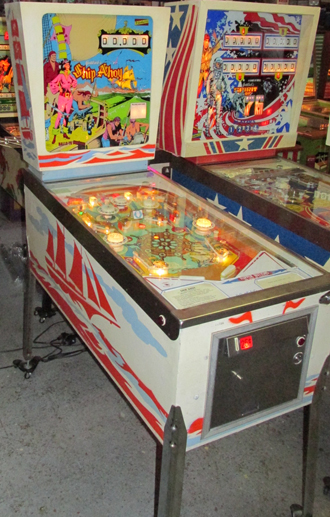 1976 Gottlieb's "Ship Ahoy" great single player Add a ball machine in very good original condition. Rare machine made for New York and Wisconsin the two states that outlawed replay (win free games) pinball. Gottlieb and the other manufactures came up with winning extra balls to circumvent that stupid law which was repealed in late 1976. This beautiful machine was mechanically restored (November 2017) and needed no cosmetic restoration nice all original.
Perfect machine for your beach, shore, lake or vacation home free delivery and one year warrantee anywhere along the Jersey Shore. Help keep your pinball memories alive and pass them down to your family.
Great pinball action trying to make all the numbers on the ships wheel. Make them all and 3 Wows light to add extra balls which light up on the glass as "WOW's. Win additional Wows with high scores. Many collectors prefer Add a ball machines because of the extra long play in your home.
Fine features found on this Ships Ahoy:
Spin and Spot (new old stock correct spinner) awards wheel numbers

3 rebuilt (brand new) pop bumpers

2 Rebuilt (brand new) flippers

2 new high scoring bumpers 500 points each Win wows (extra balls) for score and wows

100,000 plus scoring for over the top fun
Nice original Ship Ahoy it looks like it is 5 years old not the 41 years old it really is. Ok original art glass very nice original cabinet and excellent playfield rebuilt November 2017 and ready to ship. Some movies you might have went to in 1976 when Ships Ahoy was brand new were "Rocky" , "King Kong", "Carrie" and "Marathon Man"
Don't wait another year for a vintage pinball machine they are fun investments. You and your family will love playing a vintage pinball machine.
Gottlieb made the finest electromechanical pinball machines right here in America. They are of a quality the Germans and Chinese can't touch. One of the few investments you can enjoy every day in your home. Pinrescue has only restored 3 Ships Ahoy in the 20 years we have been doing only vintage pinball full time. Good chance if you miss this one it will be a long time before we get another and every chance it will not be as nice as this one.
We flat rate shipping just about anywhere USA for $500 Local to us from NYC to Washington DC we will install and warrantee for one year for $250. Free install anywhere along the New Jersey Shore.
Price $3000 sold Calverton Long Island Questions pinrescue@comcast.net or call 215 354 0906
Click to enlarge