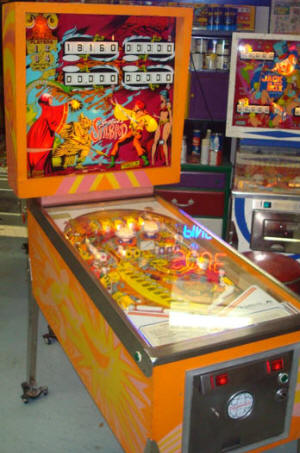 1978 Gottlieb's 4 Player "Sinbad" rare electromechanical version of Gottlieb's huge digital hit from 1978 Sinbad. Freshly restored by Pinrescue October 2012 with all new flippers, drop targets, plastics, posts, rubber, lamps, pop bumpers, shooter, coin entries, playfield glass, locks, hardware and a new playfield glass. Really nice 100% original cosmetic condition all round "collectors condition". "Sinbad" is a classic Gottlieb EM pinball machine with drop targets. In the late 1970's Gottlieb was purchased by Columbia Pictures and was licensed to do a pinball machine themed after a movie released in 1977 Ray Harryhausen's epic "Sinbad and the Eye of the Tiger". Gottlieb produced a staggering 12,950 Digital Sinbad's and only 950 4 player EM Sinbad's During 1978 when this very nice machine was brand new the Sinbad movie ran up against a world beater in a little movie called "Star Wars" but Columbia came back later in the year with "Close Encounters of a Third Kind"
Fun features found on "Sinbad":
4 brand new flippers

10 brand new drop targets

1 new spinner the swords cross when it spins

100,000 over the top scoring

Win Specials

Win Extra balls

Win for high scores and end of game match
All the features you want in a late 1970's drop target pinball machine win extra balls and free games or can be set for extra balls only for really long games at home.
Pinrescue has safely shipped all over the USA inside your home ready to play fully insured installation runs $400, less if you live in the Greater NYC to Washington DC area.
Price $3500 sold – New South Wales, Australia "Thanks Mate!"
Questions? pinrescue@comcast.net or russ 215 354 0906
Click to enlarge