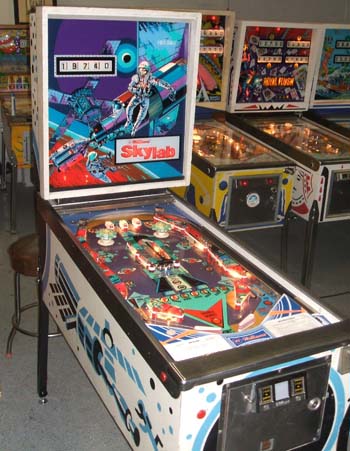 1974 Williamís ďSkylabĒ Space exploration themed pinball machine single player fun pinball machine. One of the popular Space themed pinball machines from Williamís designer Steve Kordek who did 1961 Space Ship, 1962 Friendship 7 and 1976 Space Mission any of which would look great next to Skylab. Beautiful original condition with no touch ups anywhere very nice original cabinet, glass and playfield.
Great game play with tons of features like:
5 captive balls in the center rocket

Loop 5 to the lit side for replay specials or extra balls

Spell Spacelab for replay specials or extra balls

Can be set for true add a ball play for extra long games at home

Win up to 10 extra balls to play

2 rebuilt strong pop bumpers

Wonderful graphics great for kids (Mom will approve)
Fast game play in a mid 1970ís pinball machine rebuilt for reliable fun in your home. Local to us near Philadelphia Pa we offer a long term renewable service contract for a low $175 per year. The only reason we can do that is we have cleaned, adjusted and rebuilt just about everything on Skylab including 100% new rubber and lamps.
Donít wait or Skylab will be on its way to someone elseís happy home. It will be a long time before Pinrescue finds another one and very good chance it will not be in the wonderful condition that this one is in.
Shipping runs $375 to just about anywhere including the Space Coast in Florida.
Price $2295 (Sorry sold Jersey Shore) Questions ? pinrescue@comcast.net