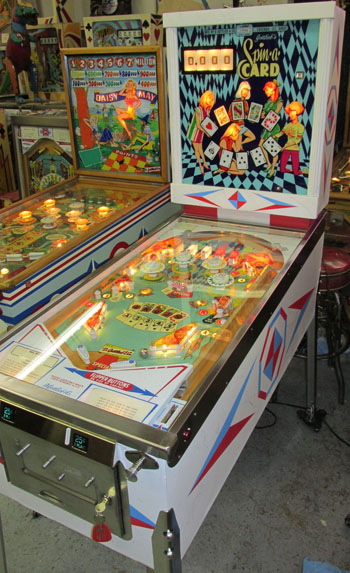 1969 Gottlieb's "Spin a Card" Card themed pinball at its best. This "Spin a Card" is freshly restored late March 2017 it's condition is as follows: Very Nice Original art glass, restored to original cabinet, super condition playfield with all new parts. Spin a Card is one of the popular "A Card" series and are next to impossible to find in this restored condition for sale. Others in this series include Spot a Card, Pop a Card, Drop a Card, Flip a Card and Select a Card none of which Pinrescue can keep in stock.
Tons of new parts installed including new playfield glass, legs, locks, coin entries, pop bumpers, flippers, rubber, lamps and many more.
Right now in the middle of March 2017 Pinrescue is lucky enough to have both a Flip a Card and this Spin a Card at the same time for sale.
Movies from 1969 when this Spin a Card was brand new Butch Cassidy and the Sundance Kid, Midnight Cowboy, Easy Rider and Goodbye Columbus don't wait another decade for that vintage pinball machine you have always wanted. Spin a Card is the favorite machine of many pinball players.
Game play features light animation on the backglass when the ball goes into either spin hole the cards flash around and award the card it stops on great fun. Get all ten cards out and specials light for many free games. One of the only games that awards a replay with a drain past the flippers!
We at Pinrescue only restore vintage pre 1977 pinball machines like Spin a Card we love what we do and it shows in our work. Rare chance to own a 48 year old pinball machine that plays and LOOKS like new. Local to us in the greater Philadelphia area we proudly offer a long term service contract on Spin a card if you are not local we offer phone/email/parts support and can keep it running in your home. Top quality restored March 2017 ready for lots of fun in your game room.
PRICE $5,000 Sold-Baltimore, MD Questions pinrescue@comcast.net or215.354.0906
Click to enlarge