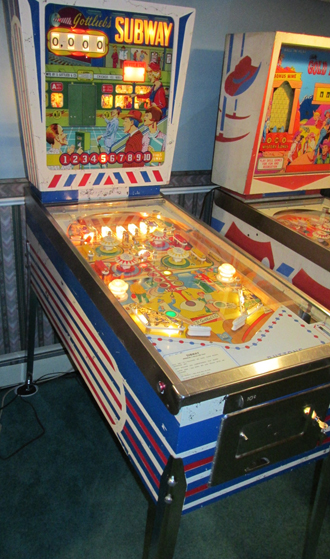 1966 Gottlieb's Fabled "Subway" animated single player freshly restored May 2017 ready for your gameroom.
Gottlieb's most collectable animated pinball machine and many peoples favorite of all time. Fun pinball action from 1966 with cute back box animation the subway doors open to a crowded interior with a tuba player stuck in the door. See pictures below. Rare Addaball pinball machine win free balls for extra long play at home. These add a ball machines were low production machines made for New York and Wisconsin the two states that outlawed replay pinball for some stupid reasons. Many collectors covet these for the long play possible at home winning many free balls.
Great features found on Subway:
4 top lanes award extra balls

4 rebuilt pop bumpers

2 rebuilt flippers

Line up subway lights to win additional balls High scores win additional balls Subway doors open each time you win a ball.
Subway is 51 years young built in Chicago in 1966 with top quality American materials, engineering and workmanship the Germans and Japanese can't touch. So much more engaging then a video game let your family know what fun it is to play a properly restored vintage pinball machines.
Below are the results from the pinball data base 7.8 fun rating is extremely high.
Votes and Comments for 'Subway'
Average Vote: 7.8/10, with 20 votes and 8 comments
Pete said:
"I played this game at the local soda fountain. It was new. I spent many dimes in it. I could play until my money ran out!" (voted 8/10)
Wood said:
"One the best! Even with the animated back glass. Subway! WANTED!!
Wayne.l.Woodard@boeing.com" (voted 9/10)
Love2VBall said:
"my all time favorite...but I spent quarters in it in the 60's...wore out several pair of shoes playing it @ Cook's in Norwalk, CT" (voted 10/10)
Jon said:
"I've owned this game since 1975. Got it as a Christmas present when I was 11. Still my favorite!" (voted 8/10)
anonymous said:
"Most exciting game that you could play for hours if you were good." (voted 10/10)
Mikey said:
"Ed Krynski, you are/were a genius. Spent countless dimes playing this game all through high school and college. They don't make them like this anymore." (voted 10/10)
Ekkehard Hoffmann,EssenKettwig said:
"Für Spiel-und-Kinderzimmer ein Knüller! Unser Test-sehr gut!Gegen geringen Aufpreis persönliche Anlieferung nach Wunsch von mir in meinem goldenen 560 SEC oder in meiner Corvette oder von Herr Gerken in seinem 62er VW" (voted 4/10)
Jack said:
"I didn't give a 10 rating (Best Game Ever) because I didn't play every game ever made, but this was my favorite. You really got a dime's worth. Fabulous animation, great play and awesome retro period beauty." (voted 9/10)
Pinrescue can't imagine what Ekkehard above was thinking but almost everyone else agrees that Subway is a winner. This one is in fabulous condition older cabinet repaint that still looks good nice original playfield and excellent original art glass. Subways in general were played often and hard to find one in this nice all around condition 51 years later is rare.
Pinrescue has safely shipped to over 45 of the 50 states inside insured shipping runs $500 ready to play.
Price $4500 sold Franklin TN Questions? pinrescue@comcast.net or call russ 215 354 0906