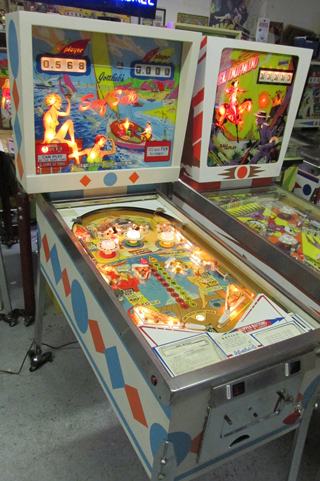 1967 Gottlieb's "Surf Side" 2 player "fun in the sun" classic roto target pinball machine. Perfect machine for the shore/lake home or the yachting/sailing family. Kind of a rare game as Gottlieb never made a 4 player or single player version of Surf Side. Freshly restored February 2014 Pinrescue has been hard at work getting these classic machines up on our webpage after selling out again this Christmas 2013.
http://pinrescue.com/games/video/abbra/abra.wmv
follow this link to some other great Gottlieb games Pinrescue restored in the past.
Great game play featuring:
4 "old school" small flippers

3 snappy pop bumpers

Vintage roto target (scores from 1 point to 500 points)

4 brand new bulls eye targets

Win extra balls for long play at home

Pop games for high scores

Pop games at end of game match number
3 different size bells for that vintage pinball sound Beautiful condition machine with a fully restored cabinet super nice original art glass 100% original playfield in excellent condition. In January of 1967 the year this wonderful "Surf Side" left the Gottlieb factory, the Green Bay Packers defeat the Kansas City Chiefs 35-10 in Super Bowl 1. Don't wait another 47 years for a vintage pinball machine they may be all gone.
Classic "Muscle Cars" from 1967 bring 6 figures when done right and vintage pinball may follow suit as in 1967 there was no Pacman or Donkey Kong earning your quarters. Pinball was king of the arcades and everyone drove those cars to the bowling alley, local hangout, boardwalk or amusement park to play pinball machines like Surf Side.
Price $4500 Sold - Los Gatos, CA Pinrescue has safely shipped all over the USA it runs $500 fully insured inside delivery ready to play. Free installation and one year warrantee anywhere along the New Jersey Shore.
Click to enlarge