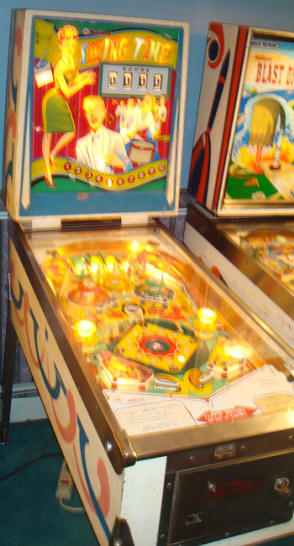 1963 William's "Swing Time" freshly restored June 2013 a pinball collectors dream excellent original 50 year old pinball machine. Rare Add a Ball machine made for New York and Wisconsin the 2 states that outlawed pinball ( go figure?). Pinball collectors covet Add a Ball games for the rarity and extra long game play as you win extra balls instead of replays. Gem condition some cabinet wear but not out of line in a 50 year old arcade game. Perfect art glass and near perfect playfield plays 100%.
Nice Dancing, 1950's Diner, Music themed machine would look great next to a 50's Coke Machine or Juke Box.
During 1963 when Swing Time was Brand New the Beatles release "Love Me Do" Patsy Cline was killed at the height of her career. Peter, Paul and Mary and Bob Dylan both released "Blowing in the Wind". Don't wait another 50 years to get that vintage pinball machine you have always wanted.
Swing Time Features many ways to win extra balls:
Extra Ball thru top center lane on FIRST ball

Extra Ball for going thru 4 top rollover lanes

Extra Ball in Center hole when lit

Extra Balls for high scores
Vintage pinball machines are a fun investment you can enjoy playing every day. Pinrescue can safely get this machine set up in your game room.
Price $3500 (sold Willow Street PA) installed in your home ready to plug in and play.
Click to enlarge