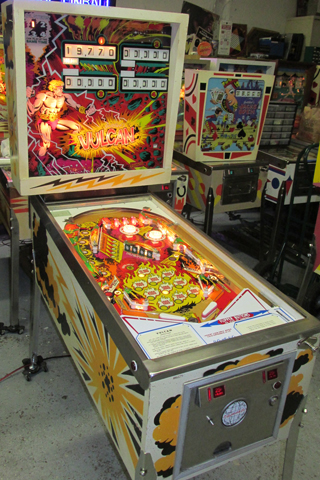 1977 Gottlieb's "Vulcan" . All round excellent condition Gottlieb pinball machine with 9 drop targets. Super fun for four players.
This 1977 machine is the youngest Pinrescue works on as by the end of 1977 all three pinball manufactures had switched to Digital pinball and the sounds and feel of an electromechanical machine like Vulcan became harder to find in the arcades. Pinrescue has turned back the clock and the sounds of the rebuilt chime box will bring back fond memories for you and create new memories for your kids. Freshly restore December 2014 and ready for your game room. Kid tested and Mother approved fun for four players. Clean as a pinball machine can be inside and out. During 1977 the big movie block buster was Star Wars This nice Vulcan plays like it is 2 weeks old and not the 37 years young it really is.
Vulcan features:
Specials which light for making numbers 1 thru 5

Extra balls for making the green drop targets

Double Bonus for making white drop targets

Thrilling count down bonus after each ball up to 30,000 points

Lots of star rollovers and over the top 100,000 scoring.
Vulcan is clean and reliable the playfield and backglass are near mint. The cabinet has had some light touch ups and looks better than average condition. If you never played a Vulcan the 4 player version or a Fire Queen the 2 player rest assured it is one of the better Drop Target games that Gottlieb ever made. If you are looking for a good reliable multiplayer game with drop targets don't wait or Vulcan will be in someone else's home.

We have safely shipped all over the USA ($500 fully insured inside delivery ready to plug in and play) and proudly offer long term service contracts from Washington DC to New York City.

Price: $3200 sold-Cape Coral, FLAny questions pinrescue@comcast.net 215.354.0906