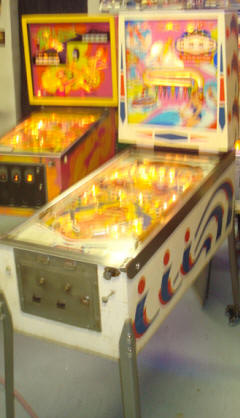 1963 William's "Zig Zag" animated pinball fun, very cool, very classy single player. Freshly restored February 2013 Zig Zag is ready for your shore or lake home.
. If you remember playing Zig Zag back in the day you know what a great player it is. The ball is constantly zigging and zagging across the playfield as the kicker holes launch the balls into the sling shots.
Old fashion pinball fun with animation in the art/back glass cute colored balls kick up get 9 of them and win a Special
Other nice features on Zig Zag

3 powerful pop bumpers

3 large kick out holes

5 old school rollover buttons3 different Specials

End of game match
Mechanically restored condition (Feb. 2013)plays same as new. The playfield is in great condition, good clean original cabinet paint with some nicely done touch ups and excellent original backglass Zig Zag is ready for your game room. Pinrescue only works on pre 1977 pinball machines like "Zig Zag" we don't do digital pinball or video games.
Click here to see a short movie of other pinball machines we restored in the past To see a short video of the last Abracadabra we rescued click here
Some big things that happened in 1963 when this beautiful Zig Zag was brand new Astro Boy (yippee yeah) first appears on TV in Japan and Iron Man is introduced to Marvel Comic fans.

As with all of our machines we offer long term service contracts local to Philadelphia Pa. and all of New Jersey. Not local, we have safely shipped all over the country. Quality restored vintage pinball machines are a fun investment you and your family can enjoy everyday.
Price $3500 – (Sold Spanish Fork, UT) installed in your home ready to plug in and play