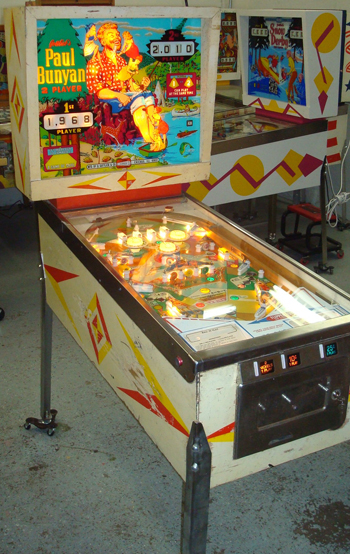 1968 Gottlieb's "Paul Bunyan" Unique two player pinball machine with SIX flippers! Perfect vintage pinball machine for "Ax Men", lumberjacks or anyone who has a vacation home in the woods. Freshly restored (Jan 2010) and ready for your gameroom.
Fun pinball machine with top to bottom 1960's pinball action.
Features:
6 new flippers
3 new pop bumpers
1 roll under gate for a extra ball
2 kick out holes for 50 to 600 points scoring
Make A,B,C to light the extra ball and 500 points gate
Replays for high scores and end of game match
Paul Bunyan plays like new with all new flippers, pop bumpers, posts, lane guides, rubber and lamps clean as can be inside and out. Cosmetically in excellent to fair shape as follows: Excellent original art glass, very nice original rebuilt playfield, so-so cabinet with lots of character. Pinrescue can restore the cabinet and chrome to nearly new condition but it would nearly double the price and add 6 weeks to the installation. See this link for an example of our cabinet work.
http://pinrescue.com/el_dorado_restoration.html
With a restored cabinet this machine would be top notch. Pinrescue can do light cabinet touch ups at no additional charge or leave it all original. During 1968 when this nice Paul Bunyan was brand new another classic game "Hot Wheels" toy cars from Mattel were introduced. Don't wait another decade
or longer to buy a vintage pinball machine they may all be gone.
Price $2295 (sold Wardensville WV) inside insured delivery runs $400 just about anywhere.
Any questions pinrescue@comcast.net 215 493 266
Click to enlarge